The wreck of one of the most renowned ships of the 17th century, which sank 340 years ago while transporting the future King James II and VII, has been discovered off the coast of Norfolk, UK.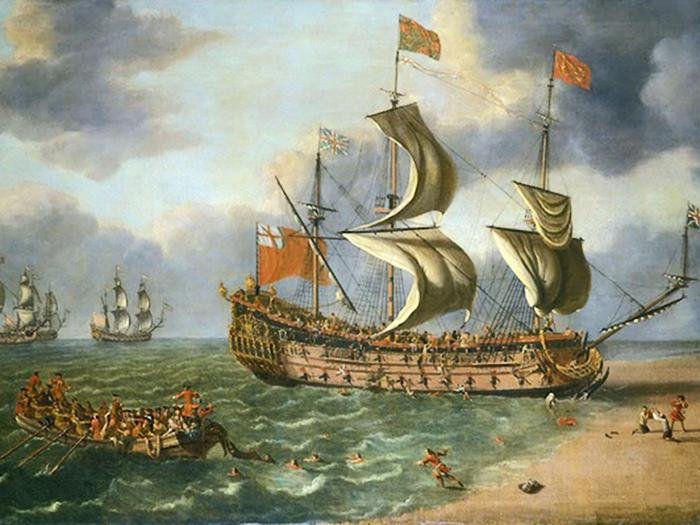 King James II of England, who was the Duke of York at the time, narrowly escaped the sinking ship "The Gloucester" off the eastern coast of England after it collided with a sandbank in 1682. Three years later, he became king of England and King James VII of Scotland.
The wreck's final location, 45 kilometers (28 miles) off the coast of Great Yarmouth, had been a mystery since 1682, until brothers Julian and Lincoln Barnwell, with their friend James Little, discovered it after a four-year search.
According to Reuters, The shipwreck revealed various historical artifacts, including a bottle bearing a glass seal with the crest of the Legge family – ancestors of the first U.S. President George Washington. Other artifacts include navigational equipment, personal possessions, clothes, and wine bottles – some with their contents intact.
"Because the ship sank so quickly, nobody would have rescued anything," Claire Jowitt, Professor of Early Modern Cultural History at the University of East Anglia, remarked.
"The discovery promises to fundamentally change understanding of 17th-century social, maritime and political history," Jowitt said.
The Gloucester represents an important 'almost' moment in British political history: a royal shipwreck that almost killed the Catholic heir to the Protestant crown, James Stuart, Duke of York and Albany, at a time of great political and religious tension.
According to the University of East Anglia (UEA), a major exhibition is planned for Spring 2023, the result of a partnership between the Barnwell brothers, Norfolk Museums Service, and academic partner UEA. Running from February to July at Norwich Castle Museum & Art Gallery, the exhibition will display finds from the wreck – including the bell that confirmed the ship's identity – and share ongoing historical, scientific, and archaeological research.