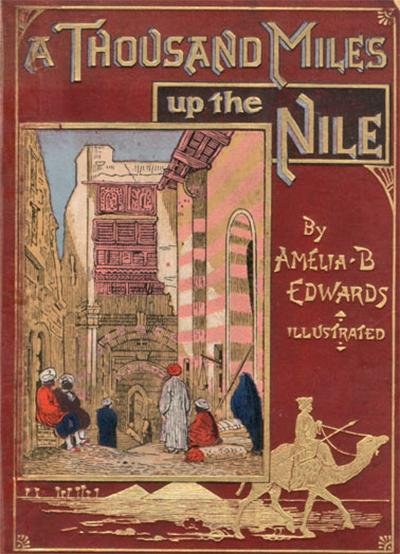 by Amelia B. Edwards
Publisher: A. L. Burt Company 1888
Language: ‎English
Paperback: ‎500 pages
ISBN/ASIN: 190639315X
Embark on an extraordinary journey through the pages of "A Thousand Miles up the Nile," a captivating travelogue penned by the illustrious Amelia B. Edwards. Published during the latter half of the 19th century, this timeless literary masterpiece immerses readers in a world of adventure, exploration, and archaeological discovery along the storied banks of the Nile River.
Navigating the Nile aboard a dahabiah, a distinctive sailing vessel native to the region, Amelia Edwards meticulously documented her observations of temples, tombs, and monuments. Equipped with a sketchbook and measuring tape, she even unveiled a concealed chapel during her explorations. Through her work "A Thousand Miles Up The Nile," Edwards accomplished the pioneering task of conducting an encompassing archaeological assessment of Egypt's ancient remnants.
Within the pages of this book, you will traverse the ancient lands of Egypt, navigating the iconic river that has sustained civilizations and witnessed the rise and fall of kingdoms. Amelia B. Edwards' eloquent prose paints vivid landscapes, transporting you to bustling marketplaces, resplendent temples, and awe-inspiring monuments that stand as testaments to the ingenuity and artistry of generations past.
Amelia's narrative prowess extends beyond the landscapes, as she introduces us to a colorful cast of characters. From local guides with intimate knowledge of the land to fellow travelers drawn by the allure of antiquity, each individual contributes to a tapestry of shared experiences and encounters.
Yet, it is in her encounters with the artifacts of Egypt's ancient civilization that Amelia's narrative truly flourishes. With keen observation and a deep appreciation for history's artifacts, she unearths the stories hidden within hieroglyphs, sculptures, and artifacts, breathing life into a past that continues to inspire wonder and fascination.
Amelia B. Edwards' "A Thousand Miles up the Nile" transcends the boundaries of time and geography. Prepare to set sail on a literary expedition of unparalleled magnitude, where every chapter brings you closer to the heart of Egypt and its timeless allure.
Open the pages of "A Thousand Miles up the Nile," and allow Amelia B. Edwards' narrative to transport you across time, inviting you to explore the treasures of a nation steeped in history, mystery, and grandeur.