According to Radio Prague International, Czech scientists have uncovered a remarkable discovery that suggests the origins of the world's oldest herbal millet beer may trace back to Bohemia. This revelation emerged from their study of a 3,000-year-old bronze vessel unearthed in the village of Kladina in 2017.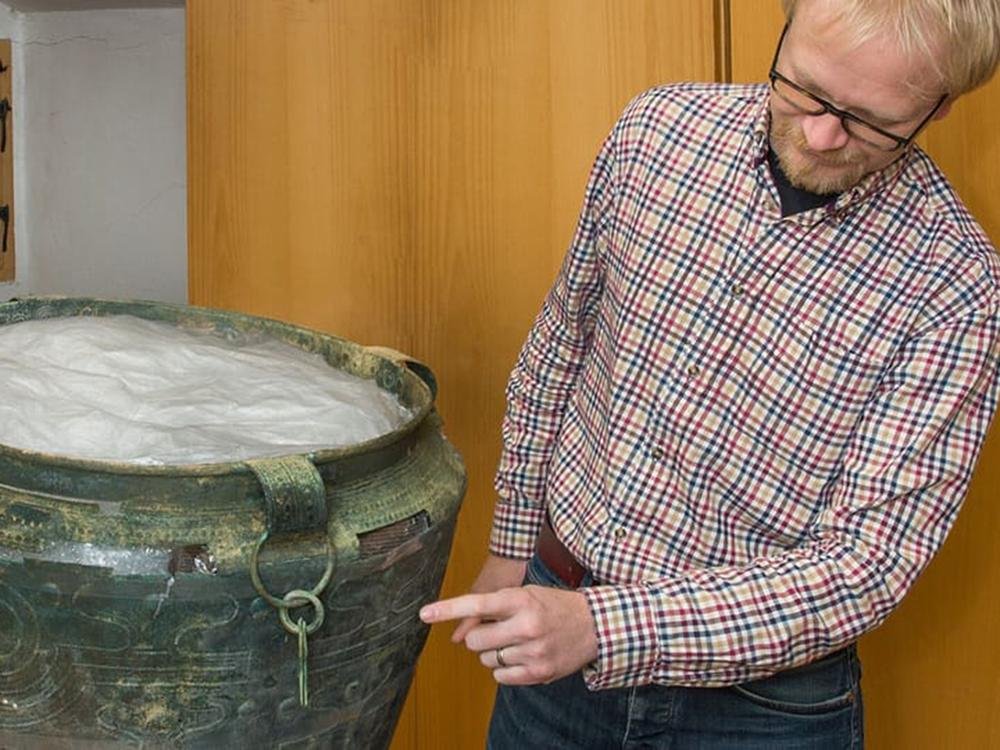 The bronze vessel, adorned with intricate motifs featuring sun discs and swans, was found in a forest near the East Bohemian town of Pardubice. Believed to have been buried underground as an offering to deities, it held the promise of untold ancient secrets.
Archaeologist Martin Golec explained that although similar bronze vessels have been discovered across Europe, Czech archaeologists became the first to delve into the vessel's contents in search of answers:
"When the archaeologists retrieved the vessel from the ground, they observed remnants of sediment at the bottom. Both the inside and outside were coated with dirt residue. The chemist, who collected samples, suspected it might contain cereal grains, and indeed, he detected a chemical fingerprint of millet."
This chemical fingerprint led the experts to the discovery of a substance known as miliacin, recognized as a distinctive marker of millet. Further analysis revealed traces of various herbs and cooked potato starch, compelling the researchers to propose that this ancient vessel was once used for brewing a bitter herbal beer.
Inspired by this revelation, chemist Lukáš Kučera from the University of Olomouc set out to recreate the beer based on the ancient recipe. This unique brew incorporates millet, wormwood, and wild yeast. Kučera's approach took inspiration from Belgian lambic beers, which undergo fermentation in open vats, allowing wild yeast and bacteria to take up residence, and are subsequently aged in barrels. He also opted to produce a slightly milder, less bitter version of the beer:
"What sets this beer apart is that it must be fermented with wild yeast, which cannot be purchased in stores. That's why I intentionally fermented the beer in proximity to apples. The beer boasts a distinctive acidic flavor, reminiscent of cider or wine rather than traditional beer. It retains the appearance of beer, exudes a scent akin to cider, and offers a taste with subtle hints of lemon."
Zuzana Golec Mírová from the Faculty of Arts at Charles University has drawn intriguing conclusions from the large volume of the ancient vessel, suggesting that its contents were intended for consumption by significant gatherings of people:
"This likely represents a social event where individuals congregated to consume the potentially hallucinogenic contents, aiming to communicate with deities. Alcohol, in itself, often functions as a mediator between humans and gods."
The rare Bronze Age vessel has undergone restoration and will soon become a permanent exhibit at the East Bohemian Museum in Pardubice. The museum's director, Tomáš Libánek, envisions a future where visitors can savor millet beer brewed according to the ancient 3,000-year-old recipe in the museum's café, thereby connecting with the rituals of their ancestors and uncovering the enigmatic history of this ancient brew. — Radio Prague International