Over 11,000 years ago, children accompanied by their families on a journey through what is now White Sands National Park in New Mexico had an exciting encounter that would capture the imagination of any child: they stumbled upon muddy puddles formed by the footprints of a colossal ground sloth.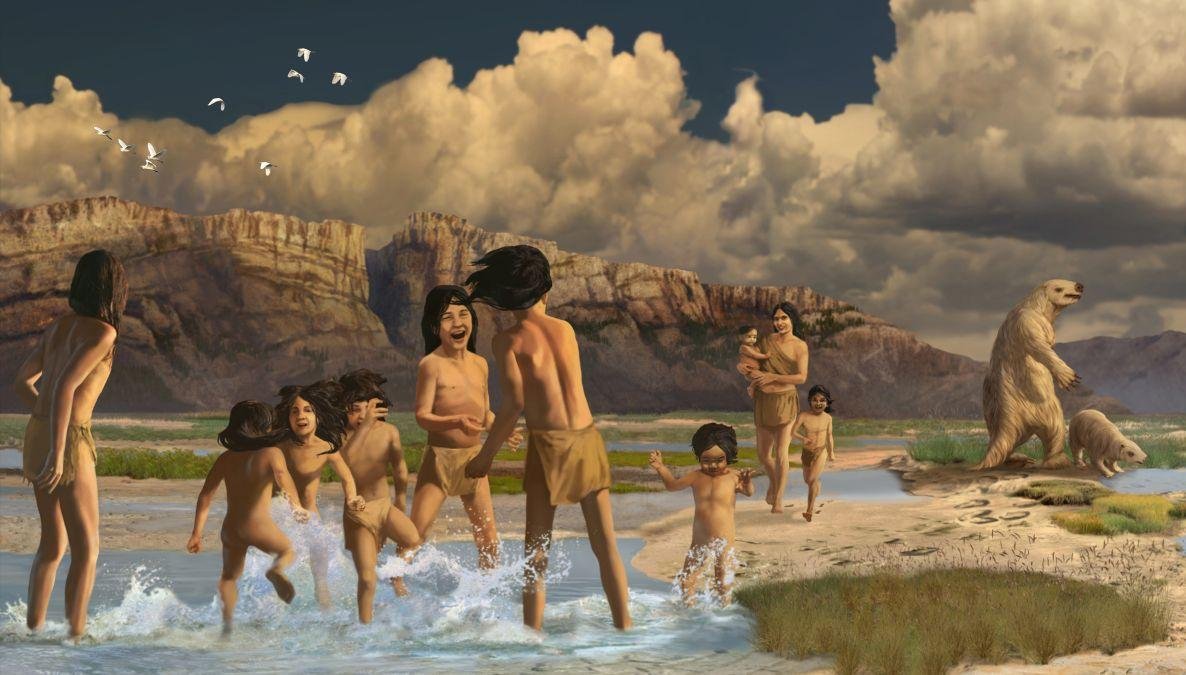 It's hard to resist the allure of a muddy puddle, especially for young ones. The children, estimated to be around four in number, gleefully raced and splashed through the wet sloth trackway, leaving their own footprints imprinted in the dried-up lake bed known as a playa. Remarkably, these footprints have endured through the ages, serving as evidence of this ancient adventure, as revealed by recent research.
This discovery sheds light on the fact that children residing in North America during the Pleistocene epoch, which spanned from 2.6 million to 11,700 years ago, were certainly fond of engaging in playful splashes.
Matthew Bennett, a professor of environmental and geographical sciences at Bournemouth University in the U.K., who is currently investigating the trackway, told Live Science that "all kids like to play with muddy puddles, which is essentially what it is."
Bennett has extensively visited White Sands over the past five years, actively identifying and studying footprints left behind by both prehistoric humans and megafauna (referring to animals weighing over 99 pounds or 45 kilograms).
Alongside his colleagues, he has made several remarkable discoveries, including human footprints that date back to approximately 21,000 to 23,000 years ago, which serve as the earliest and undeniable evidence of human presence in the Americas.
Although the discovery of the muddy footprints belonging to the children and the sloth has not yet undergone peer review and publication in a scientific journal, Matthew Bennett plans to write about them in the coming months as a methods paper
The purpose of this paper is to assist researchers studying similar trackways in determining the number of individuals present and their ages when the tracks were made.
It should be noted that the footprints Bennett examined were not accurate representations of the children's feet due to the distortion caused by the malleable mud. However, by comparing the preserved, smudged footprints with modern growth data, Bennett was able to estimate the ages of the children.
He concluded that there were more than 30 footprints intersecting the sloth trackway, most likely made by children between the ages of 5 and 8 years old.
The trackway left by the extinct giant ground sloth, possibly identified as Nothrotheriops, was created as the sloth traversed the area on all fours.
According to Bennett, each sloth print consists of two imprints."As it puts its forepaws down, the rear paw comes and steps on it," he explained.
This combination of front and back paw placements results in the kidney-shaped prints observed. The footprints of the giant ground sloth measure approximately 16 inches (40 centimeters) in length, and the creature would have ranged in size from that of a cow to as large as a bear, Bennett estimated.
Although the footprints are relatively shallow, approximately 1.2 inches (3 cm) deep, they were sufficient to capture water and captivate the children's curiosity.
According to Bennett, it is common to come across children's footprints at White Sands, presumably because, like children today, they would race around, resulting in numerous footprints each day.
The group of children and adults were most likely foragers who remained together while searching for food, forming a cohesive unit.
"In the past, you would have just taken your kid to work. And if work was walking across the former lake bed in order to track an animal, you would have taken your child with you."
Determining the precise age of footprints is challenging without a detailed study of the site's rock layers or the discovery of organic matter that can be radiocarbon dated.
However, based on the presence of 23,000-year-old footprints and the extinction of ground sloths around 11,000 years ago, it is likely that these playful children's footprints were made between 23,000 and 11,000 years ago.