A few months after receiving the fourth, third and second shrines of Tutankhamun, the Grand Egyptian Museum (GEM) received the first and biggest shrine and placed it in its permanent location at the boy king's gallery.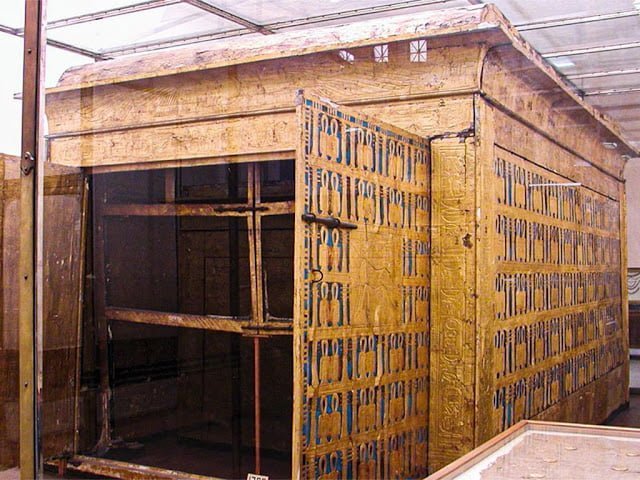 Atef Moftah, supervisor-general of the GEM and the surrounding area, said the process of disassembling and transferring the shrine took eight days of continuous and hard work.
El-Tayeb Abbas, assistant minister of tourism and antiquities for archaeological affairs at the GEM, said the GEM has recently received three shrines of the boy king, and this last one is the biggest artefact from his treasured collection. It is carved in gilded wood and was discovered in November 1922 in the boy king's tomb in the Valley of the Kings on Luxor's west bank, along with the other shrines and the king's treasure collection.
Abbas added that the rest of the king's shrines will be transferred to be the GEM and displayed in the 7,200-square-metre gallery dedicated to the king's treasures. These are equipped with state-of-the-art display technology with the environmental control of temperature, humidity and lighting, in addition to labels with graphics and explanatory cards for each piece.
"More than 95 percent of Tutankhamun's collection were restored and put on its permanent display," he added.
Moamen Osman, head of the museums sector, asserted that the transfer was carried out amid security measures by the Tourism and Antiquities Police under the supervision of restorers and museum curators.
The shrine was dismantled and reassembled according to scientific and archaeological criteria, using the same techniques used by ancient Egyptians.
The shrine was dismantled into 20 pieces, each wrapped separately, Osman said, adding that the Egyptian Museum in Tahrir had restored the first shrine before its transport to the GEM.
Eissa Zidan, director of the restoration and antiquities transfer at the GEM, said a detailed report about the condition of the shrine was produced prior to the transfer. Each piece of the shrine was transferred in inner and external boxes using acid-free materials, he added.
Sabah Abdel Razek, director general of the Egyptian Museum in Tahrir, explains that this shrine was the first artefact to be seen inside Tutankhamun's tomb upon its discovery in 1922. The shrine is decorated with gilded layer decorated with faience tiles covered with Isis node and Jed sign with hieroglyphic texts. — by Ahram Online