Radio Prague International reports that a farmer in the Opava region of Czechia's north-east discovered a golden belt dating to the Bronze Age while working in a field.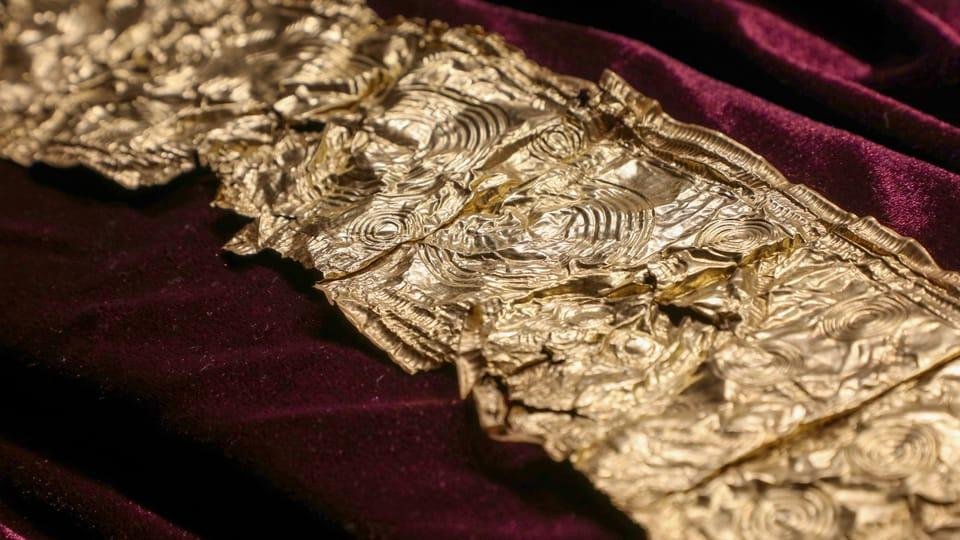 The golden belt had been lying underground for thousands of years before being discovered by a farmer while harvesting beetroots. The founder discovered the ancient garment at the end of September and immediately contacted archaeologists from Opava's Silesian Museum.
The first hypothesis was that the thin golden sheet of metal was a tiara worn by the ruling elite as a symbol of power.
Measuring 49 cm long, 9 cm wide and weighing 56.5 grams, researchers now suggest that the object is an ornate belt dating from the Urnfield culture period which lasted from around 1300 to 750 BC.
Jiří Juchelka, head of the museum's archaeology department, said the piece of metal, which is mostly gold but also contains some silver and traces of copper and iron, is decorated with raised concentric circles and is topped with rose-shaped clasps at the ends.
The style suggests it dates to the late Bronze Age, Juchelka added. "Belts at the time were made of leather and this was strapped to its front part. It was crumpled when the finder found it, probably as a result of agricultural activity, so it is a miracle it has been so well preserved. It may be missing a few tiny parts, but otherwise, it is in perfect condition."
Silesian archaeologist Jiri Juelka told Czech Radio: "The belt must have belonged to someone from high society, as this style of production was not common. Therefore, it must have been owned by someone respected."
The belt has been sent to the Bruntal museum for conservation and will go on display at the end of next year.