Archaeologists found evidence of what could be one of the first skirmishes of the English Civil War along the planned HS2 route, BBC News reported.
Approximately 200 impact marks made by pistol and musket shot to the outside of the gatehouse and the remains of over 40 used shots discovered in what would have been the moat.
The English Civil War began in August 1642. The conflict was between the Royalists, who supported King Charles I, and Parliamentarians, known as the Roundheads. The first recorded Civil War battle, the Battle of Curdworth Bridge, took place in 1642, not far from Coleshill Manor.
Coleshill Manor, located near a bridge over the River Cole, would have been a strategic position for the Roundheads to control. The Roundheads, according to experts, would have passed close to the Manor on their way to battle.
"The front of the gatehouse was pockmarked and had clearly been shot at with muskets – perhaps for target practice – but there's also an intriguing possibility that we're looking at evidence of the earliest skirmish of the Civil War," Historian and presenter Professor Alice Roberts said.
She added she was "amazed" at how much of the Coleshill gatehouse still stood.
Following the execution of the manor's previous owner, Simon de Montford, the manor passed into the hands of Royalist Simon Digby in the late 15th century. De Montford was hung, drawn and quartered for treason in 1494, upon which his estate was transferred to Digby. But by the 17th century, the political mood had worsened and Civil War was approaching.
Archaeologist Stuart Pierson, from Wessex Archaeology, was commissioned to carry out the excavations for HS2, and described the discoveries as "extraordinary".
His team has now completed excavating the gatehouse foundations, and he said: "These findings – not recorded in historical records – would have been lost to time had it not been for the expertise and hard work of the team."
"As the excavations at Coleshill for HS2 wrap up, it's timely to reflect on the extraordinary archaeology we have discovered and recorded," he added.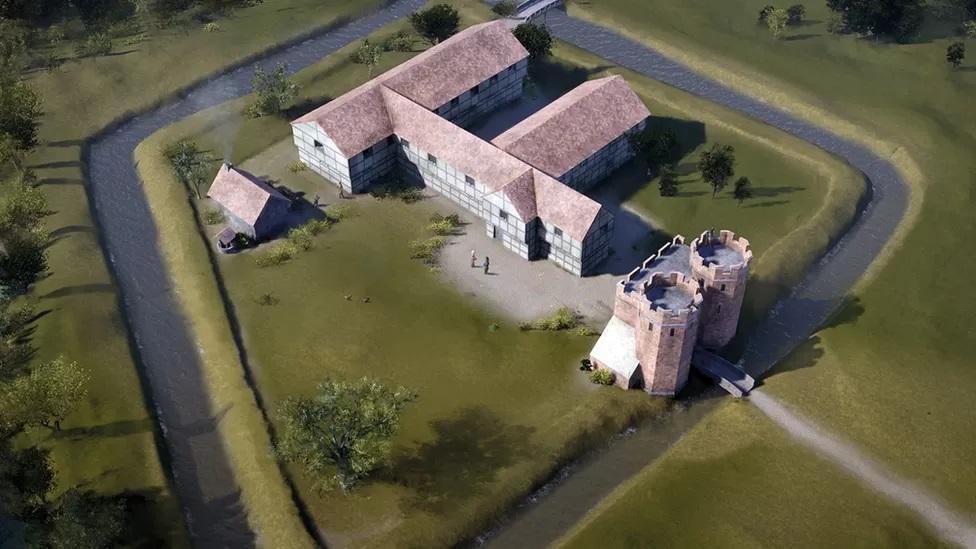 More than 100 archaeological sites have been examined on the route of the first phase of HS2, which will link London and Birmingham.
"Our investigations help historians weave together the complex pieces of information to increase our understanding of events," said Helen Wass, HS2's head of heritage.
On Sunday, the "extraordinary" discovery will be featured on the BBC's Digging for Britain series.