A hoard of 175 silver coins found in an Italian forest may have been concealed during a civil war in ancient Rome, according to Live Science.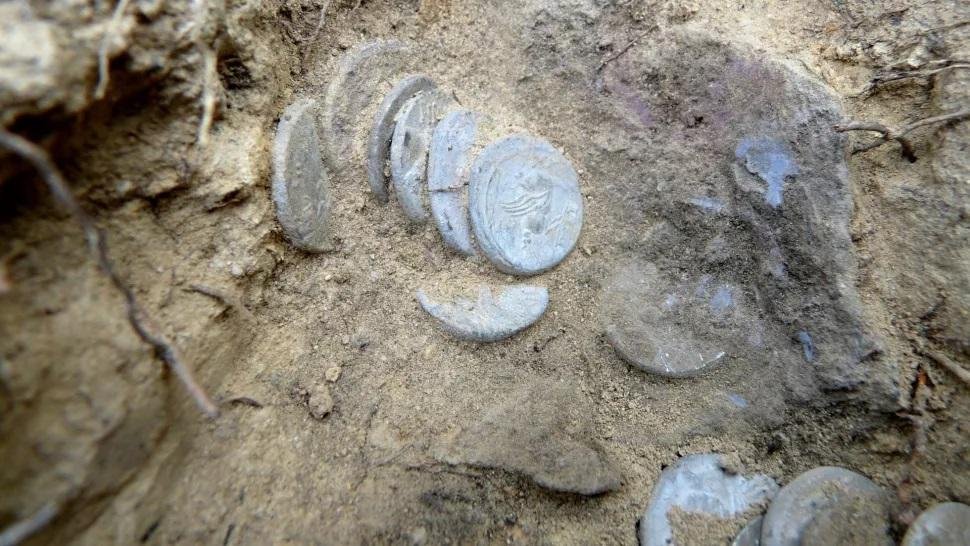 The coins appear to date back to 82 B.C., the same year when General Lucius Cornelius Sulla waged a brutal war across Italy against his rivals among the Roman Republic leaders.
This conflict led to Sulla's triumph and his rise as the dictator of the Roman state. The team of archaeologists who examined the hoard suggested that a Roman soldier might have buried it before perishing in combat.
However, according to Federico Santangelo, a professor of Classics and Ancient History at Newcastle University, the coins could have also been concealed by a merchant seeking to protect his wealth during a chaotic period.
According to Federico Santangelo, who was not part of the team that uncovered the hoard, it is plausible that the coins were not buried by a soldier, despite the possibility.
He mentioned that in the past, many people hid their money during times of conflict, and some were unable to retrieve it due to various reasons.
Therefore, the timing of this hoard aligns with other similar discoveries made during wars and other turbulent periods.
The coins were found inside a terracotta container in 2021, but the team kept the discovery under wraps to carry out a thorough investigation of the site.
An archaeologist from the provincial office for archaeology, Lorella Alderighi, told Live Science that a newly cut area of forest northeast of the city of Livorno in Tuscany yielded coins that were discovered by a member of an archaeological group.
The earliest coins date back to 157 or 156 B.C., while the most recent were from 83 or 82 B.C., according to archaeological investigations.
The area, which is now forested, was also probably forested during that period, on a small hill overlooking a swamp. A Roman farm had previously been found about half a mile (1 kilometer) away.
Alderighi said that the coins had been hidden, constituting a "treasure" or piggy bank, and that the easiest way to conceal valuables was to bury them underground, far from homes where they couldn't be found.
The coins were buried by someone who did not come back to retrieve them, and Alderighi suggested that the owner might have been a Roman soldier caught up in conflicts.
She explained that "These coins may have been the savings of a soldier returning home [during] military service" and that the soldier may have hidden them to save a useful sum for buying and starting his own farm.
Alderighi mentioned that the hoard was buried during a tumultuous period in Italian history. A few years before, there was a Social War between Rome and its Italian allies, while in 82 B.C., Sulla had returned with his legions from Asia to face his enemies in Rome, having already attacked the city in 88 B.C. and been declared a public enemy in 87 B.C.
According to Alderighi, it was a period of great turbulence in history. She explained that Sulla's soldiers conquered territories as they advanced from south to north, but central Italy and Tuscany had not yet been conquered.
Santangello added that Sulla's victory in late 82 B.C. served as a "blueprint" for later Roman rulers.
About 30 years later, there was a larger Roman civil war between Julius Caesar and Gnaeus Pompeius Magnus, also known as Pompey the Great, who had risen to power as Sulla's deputy. Caesar's victory in that war directly led to the rise to power of Augustus, the first Roman emperor, in 27 B.C.
Santangello stated that it was evident to everyone that whoever emerged as the winner of the civil war would be the master of Rome, not necessarily by law, but certainly in reality.