The artifact was discovered in Catalonia, Spain, and is thought to date back to around 39,600 years ago during the Pleistocene epoch.
This would make the bone the oldest-known tool of its kind, predating eyed needles in the region by approximately 15,000 years.
It is believed to have come from the hip of either a Bovidae animal, such as a sheep, antelope or buffalo, or an equid, such as a horse.
The bone has twenty-eight pits or indentations on its surface, some of which are not immediately noticeable. The researchers suggest that these indentations were likely made during six separate episodes of punching holes in hides.
They believe that an artisan would have placed the bone beneath animal hide and used it to puncture holes in the material, perhaps for stitching.
Archaeologist Luc Doyon, who co-authored the study and is affiliated with the University of Bordeaux in France, suggests that the pits on the bone fragment were likely not part of a notation system or decorative purpose, given that some of them are not readily visible, and the bone itself was not otherwise shaped.
He initially speculated that the marks could have been made during leatherworking. However, his hypothesis became more concrete when he visited a cobbler's shop and observed an artisan's tool.
Doyon and his colleagues attempted to recreate the pits on the artifact by using sharpened flint, horns, and antlers to puncture cattle rib bones. By piercing leather placed over a bone with a burin (a pointed stone chisel), and tapping it with a hammer-like tool, they were able to create pits that resemble those found on the bone fragment.
As per the paper, these findings provide evidence that hunter-gatherers during that period possessed the skills and technology necessary to make tailored leather products, such as fitted clothing and shoes.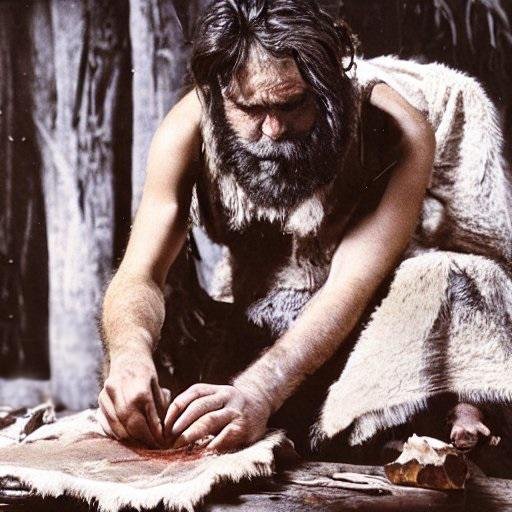 Ian Gilligan, an archaeologist at the University of Sydney who studies the origins of clothing, has described the discovery of the bone fragment as "very significant." Speaking to Alison George of New Scientist, he explained that since there is no direct evidence for clothing during the Pleistocene, any indirect evidence is highly valuable.
The oldest known fragments of cloth in the world date back to around 10,000 years ago, meaning that the bone fragment discovered in Spain is over 30,000 years older than any previously known evidence of clothing production.
However, humans are believed to have worn clothing for millennia by the time the bone was created. The bone fragment offers some clues to help clarify the issue.
The details of the finding were published in the journal Science Advances:
More information:
Luc Doyon et al. (2023). A 39,600-year-old leather punch board from Canyars, Gavà, Spain.
Sci. Adv.
9, eadg0834.
DOI:10.1126/sciadv.adg0834