Artifacts crafted from stone, bones, or teeth offer valuable insights into the survival strategies, conduct, and customs of early humans. Nonetheless, identifying the individuals associated with these artifacts has posed challenges due to the scarcity of burials and accompanying possessions during the Paleolithic era.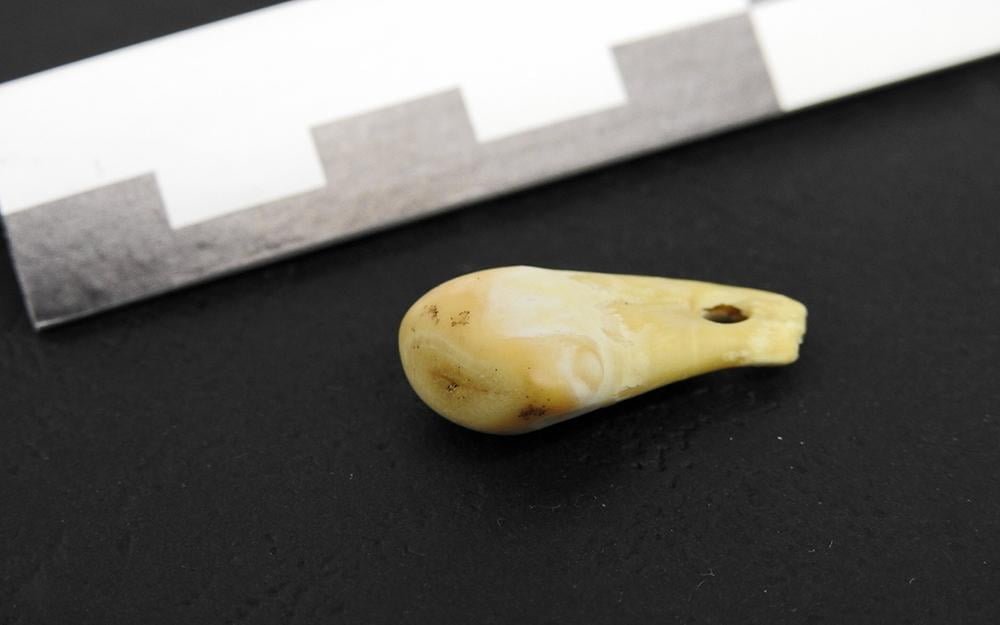 In 2019, a tooth pendant that dates back 20,000 years was discovered in Siberia's Denisova Cave. The tooth, which had a drilled hole, indicating its potential use as a bracelet or headband adornment, has now been subjected to a novel technique enabling the extraction of DNA from porous artifacts.
As a result, researchers have determined that the last person to wear the pendant was a woman or girl from a region approximately 1,200 miles away.
The new technique holds significant potential for researchers in extracting ancient DNA from exceptionally old objects, with the possibility of even identifying the individuals who touched or wore them.
While scientists have achieved remarkable success in extracting and studying DNA from ancient remains like teeth and bones, their attempts to do the same with items such as jewelry, tools, and ornaments have proven unsuccessful due to the risk of damage.
Determined to overcome this challenge, scientists at the Max Planck Institute for Evolutionary Anthropology (MPI-EVA) in Leipzig, Germany, dedicated years to experimenting with various techniques for extracting human DNA, specifically from porous materials like teeth or bones, where traces of DNA can be left behind in skin cells or sweat.
While artifacts crafted from skeletal elements are less common compared to stone tools, the researchers specifically focused on these items due to their porous nature, making them more likely to retain DNA found in skin cells, sweat, and other bodily fluids.
However, before working with actual artifacts, the team had to ensure that these precious objects would remain undamaged.
They discovered that by immersing the entire artifact in a sodium phosphate solution and gradually heating the liquid to approximately 194 degrees Fahrenheit, they could gradually extract ancient DNA that was trapped within the porous material. This method preserved the artifact's integrity.
During the refinement of the technique, the researchers determined that it was ineffective when artifacts were contaminated with DNA from contemporary archaeologists or when they were buried in specific types of soil.
However, the tooth pendant in question was still enveloped in dirt from its original burial site, and the archaeologists who excavated it had taken precautions by wearing protective coveralls, masks, and gloves. These measures minimized contamination, ensuring the successful completion of the DNA extraction process. According to Elena Essel, a molecular biologist at MPI-EVA and the study's primary author, the quantity of human DNA recovered from the pendant was remarkable, comparable to sampling a human tooth.
While some of the DNA originated from the tooth itself, which belonged to an elk, the pendant also contained DNA from a human female closely related to a group of hunter-gatherers known as the Maltinsko-buretskaya, who resided near Lake Baikal east of the cave.
Matthias Meyer, an evolutionary geneticist at MPI-EVA and co-author of the study, expressed that forensic scientists would not be surprised by the ability to isolate human DNA from extensively handled objects. However, he noted the astonishing fact that this was still achievable even after 20,000 years.
The research findings have been published in the journal Nature.
---