Archaeologists from University College London (UCL) have unearthed "giant" prehistoric stone handaxes during excavations of an Ice Age site in Kent, England.
The site, located above the Medway Valley, was revealed in advance of the development of the Maritime Academy School in Frindsbury. The sediments discovered in a filled-in sinkhole and river channel date back around 300,000 years ago.
The Medway Valley during this period would have been a wild landscape, inhabited by various animals such as red deer, horses, straight-tusked elephants, and lions, as well as early human species like Neanderthals.
Among the collection of finds were two flint handaxes, described as "giant" due to their size, measuring up to 29.5 centimeters in length. These handaxes are believed to be some of the largest stone tools from the Palaeolithic period found in Britain.
The purpose of these large handaxes is still unclear, but they may have served as cutting tools for activities like butchering animals and cutting meat.
It is also possible that they had a symbolic or ceremonial function, showcasing strength, and skill. The researchers plan to conduct a scientific analysis involving specialists from various UK institutions to understand the site's significance and how the stone artifacts helped ancient people adapt to Ice Age environments.
In addition to the Ice Age finds, the excavations also uncovered a Roman cemetery dating back to the first to fourth centuries AD. This cemetery may have been associated with a suspected nearby villa, located approximately 850 meters to the south.
The remains of 25 individuals were found, with some buried alongside personal items like bracelets, and others interred in wooden coffins. Collections of pottery and animal bones nearby indicate possible feasting rituals during the burial.
The research team continues to study the artifacts and the site's history to gain further knowledge about the ancient inhabitants and their activities.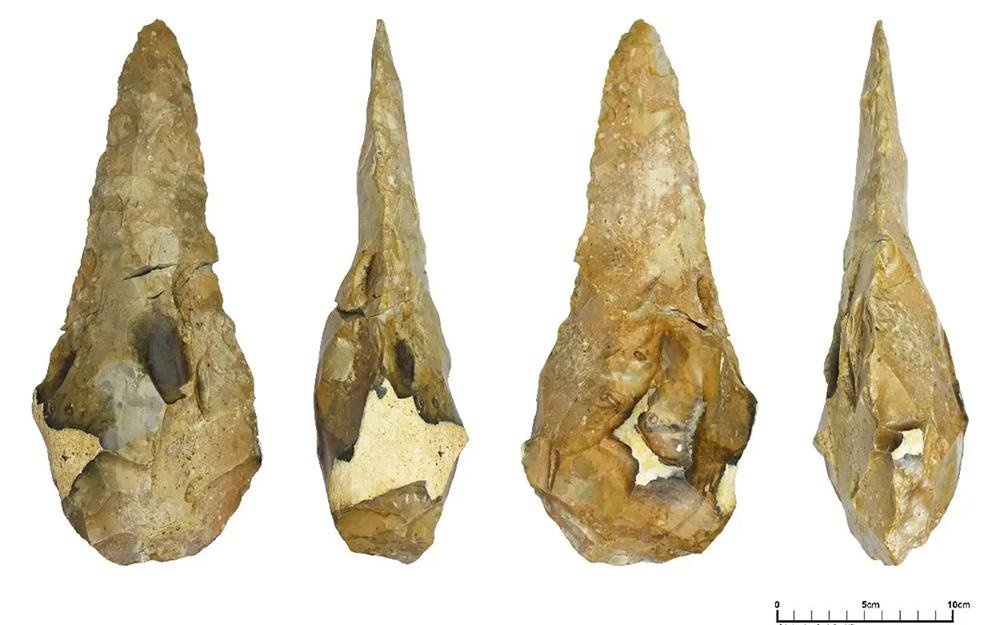 The findings have been published in the Internet Archaeology journal, and they offer a unique glimpse into the distant past and the challenges faced by ancient communities during the Ice Age.
More information:
Ingrey, L., Duffy, SM., Bates, M., Shaw, A. and Pope, M. (2023). On the Discovery of a Late Acheulean 'Giant' Handaxe from the Maritime Academy, Frindsbury, Kent,
Internet Archaeology
61.
https://doi.org/10.11141/ia.61.6