Archaeologists from the University of Oregon's Museum of Natural and Cultural History have found evidence suggesting humans occupied the Rimrock Draw Rockshelter outside of Riley, Oregon more than 18,000 years ago.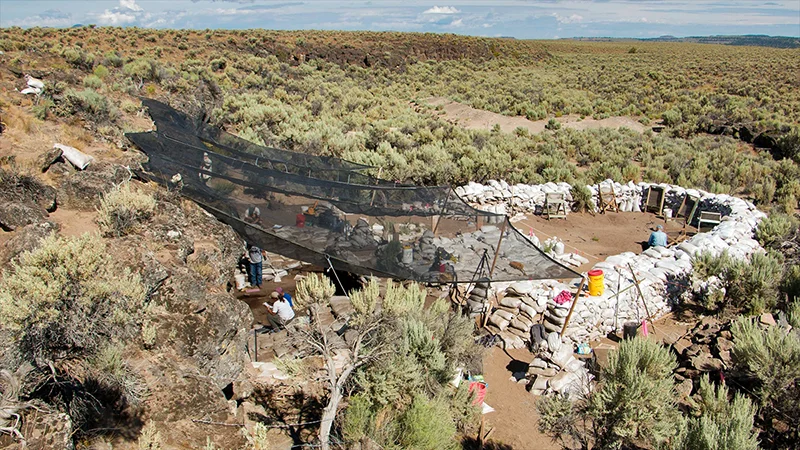 Excavations have been ongoing since 2011, as part of an official partnership with the Bureau of Land Management (BLM).
Led by archaeologist Patrick O'Grady, the team has unearthed stone tools and fragments of extinct mammal teeth dating back to the Pleistocene era.
The tooth enamel fragments have been identified as belonging to bison (Bison sp.) and camel (Camelops sp.). Notably, the camel teeth fragments were found under a layer of volcanic ash from an eruption of Mount St. Helens, which was dated at over 15,000 years old.
Further discoveries included two exquisitely crafted orange agate scrapers—one in 2012, which revealed preserved bison blood residue, and another in 2015, buried deeper within the ash.
The natural layering of the rockshelter sediments suggested that the scrapers predated both the volcanic ash and camel teeth.
To establish a more precise timeline, radiocarbon dating analysis was conducted on the tooth enamel by Dr. Thomas W. Stafford, Jr. of Stafford Research, and Dr. John Southon of the University of California, Irvine.
The results were astonishing, revealing a date of 18,250 years before the present (14,900 radiocarbon years). When combined with the presence of stone tools, this date indicates that Rimrock Draw Rockshelter is one of the oldest known human occupation sites in North America.
Heather Ulrich, BLM Oregon/Washington Archaeology lead, expressed her excitement, saying, "Thanks to the partnership with Dr. O'Grady and the University, these new dates push our archaeological knowledge of human occupation in North America even farther, perhaps the oldest yet!"
These findings have historical and cultural implications as well. David Lewis, an anthropology professor at Oregon State University, noted that the date aligns well with oral histories of tribal nations in the region. Many of these tribes have stories of geological events, such as the Missoula floods, that took place between 18,000 and 15,000 years ago.
Additionally, their oral histories include encounters with giant animals, which seems to align with the evidence found at Rimrock Draw Rockshelter, suggesting that humans interacted with megafauna during that time.
The ongoing research at Rimrock Draw continues to provide valuable insights into ancient human occupation. Further testing of other camel and bison tooth fragments is underway, and archaeobotanists are studying plant remains from ancient cooking fires.
These discoveries reinforce the importance of preserving and stewarding public lands. Archaeological sites are protected by federal law, and any damage, destruction, or removal of artifacts is considered a crime.
As the summer progresses, Dr. O'Grady and the team plan to complete the final archaeology field school at Rimrock Draw. They will continue working on several units where more Ice Age animal remains and artifacts are expected to provide additional support for the 2012 discoveries.
The BLM, which manages vast public lands, plays a crucial role in fostering these partnerships and supporting groundbreaking research efforts like those at Rimrock Draw Rockshelter in Oregon.