Archaeologists from Wardell Armstrong, working on behalf of Suffolk County Council Archaeological Service, have made a significant discovery on the grounds of the Euston Estate in Suffolk, England.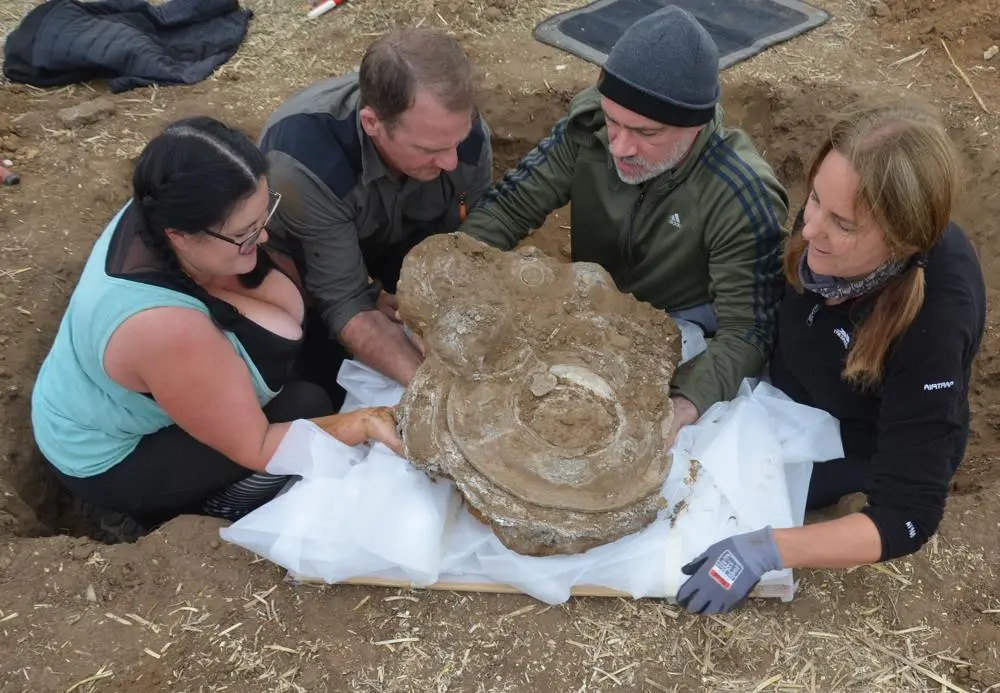 The excavation revealed a Roman hoard consisting of pewter plates, platters, bowls, and a cup, dating back around 2,000 years to the Roman period.
These items were found carefully stacked in a pit, suggesting they were deliberately placed, possibly as an offering or for safekeeping.
The hoard was initially discovered by Martin White, a local metal detectorist participating in an East of England Rally. He reported the find to local authorities, and the items were subsequently removed and recorded in situ by archaeologists.
The vessels, found on the Euston estate owned by the Duke of Grafton, do not qualify as Treasure under the 1996 Treasure Act. Nevertheless, the hoard has been generously donated to the West Stow Anglo-Saxon Village and Museum, near Bury St Edmunds, where it will be displayed until January 2024.
The artifacts, which have endured heavy plow damage and advanced corrosion, offer valuable insights into the late Roman period in Britain, which was part of the Roman Empire from the invasion by Emperor Claudius in AD 43 until the early 5th century.
The larger plates and platters likely served communal meals, while the octagonal bowls possibly hold Christian references.
Similar hoards have been found in southern Britain, including at large Roman settlements in Icklingham and Hockwold.
Faye Minter, Suffolk County Council's Archaeological Archives and Projects Manager, described the discovery as significant, emphasizing its importance in understanding the region's past during the Roman period.
Councillor Melanie Vigo di Gallidoro, Deputy Cabinet Member for Protected Landscapes and Archaeology, expressed excitement about the hoard's survival over thousands of years and its contribution to the history of Suffolk.
The West Stow Anglo-Saxon Village and Museum exhibit, showcasing these remarkable artifacts, offers an opportunity for the public to engage with their local history and culture.
Councilor Ian Shipp highlighted that the hoard adds a new historical strand to the story of Roman colonization in the area, just before the settlement at West Stow began.
The cooperation between various organizations, including the Euston Estate and East of England Rallies, has been vital in preserving Suffolk's rich history.