Archaeological excavations at Exeter Cathedral have unearthed the long-lost foundations of the church's 12th-century high altar, a medieval crypt, and the empty tombs of two historically significant bishops.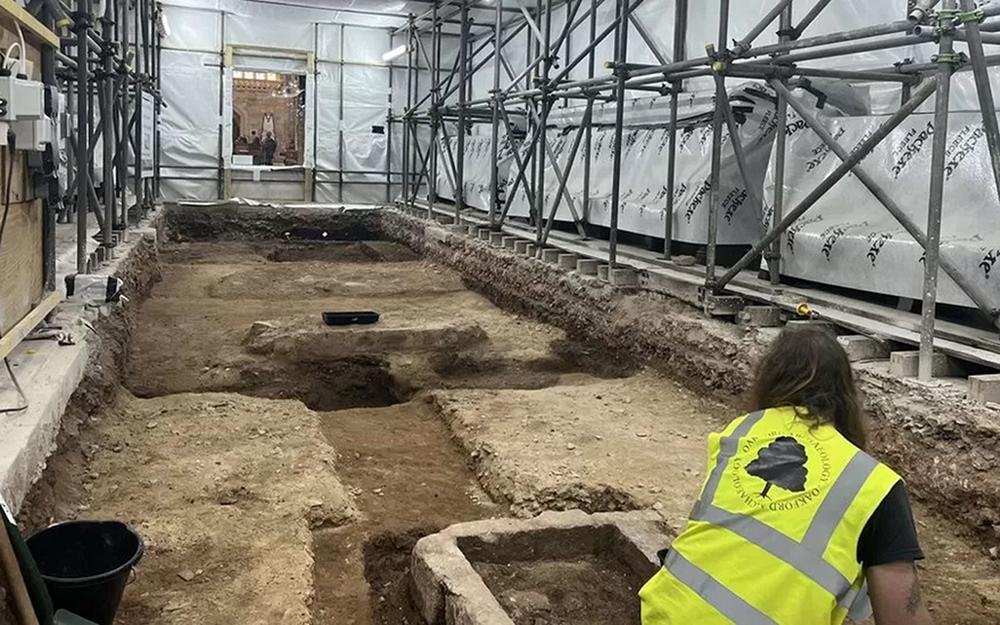 This discovery unfolded within the cathedral's quire, the central area housing choir stalls, the high altar, and the bishop's throne. The excavation was part of an ongoing project to install a more environmentally friendly underfloor heating system and conserve the cathedral's rich historical heritage.
Archaeologists, working beneath the cathedral's hallowed halls, revealed the ancient foundations of Exeter's high altar. This sacred space, where priests conduct sermons, holds immense importance in ecclesiastical tradition.
Cathedral archaeologist John Allan, an honorary university fellow at the University of Exeter, described this revelation as a momentous breakthrough. "We have found the buried floors of the Norman cathedral, last seen about 700 years ago, with the original high altar," Allan explained.
Behind the altar's foundations, a deep sunken area was discovered, challenging previous beliefs that the cathedral lacked a crypt. This newfound crypt, filled in around the year 1300, has transformed our understanding of the cathedral's architectural history.
Allan stated, "Behind the altar, to the east, is a surprisingly deep backfilled area which we think must be a Norman crypt. This is surely the most exciting archaeological discovery ever made at Exeter Cathedral."
The crypt's excavation led to the revelation of two empty stone-lined tombs. These tombs, presumed to be those of two bishops of Exeter, Robert Warelwast and William Brewer, provide a tangible connection to the cathedral's storied past.
Both bishops had been moved from their original resting places in 1320. Robert Warelwast, who passed away around 1155, was a distinguished figure of medieval England, while William Brewer, who died in 1244, left an indelible mark on the cathedral's history.
The cathedral, founded in 1050 by Saint Edward the Confessor, underwent architectural evolution over centuries. Although the original Norman-style building's towers and portions of its nave walls remain, extensive reconstruction took place between 1270 and 1350, resulting in the exquisite Decorated Gothic style that continues to captivate worshippers and visitors.
Beyond the architectural marvels, the excavation uncovered fragments of history from various eras. Notably, fragments of a 1962 edition of the Exeter Express and Echo newspaper were found during the dig, offering a glimpse into the past. These historical fragments, along with Victorian tiles from a 19th-century iteration of the quire floor, provide a tangible link between different epochs.
Jill Taylor, the cathedral's director of development, expressed gratitude for the support received thus far and emphasized the ongoing commitment to securing a sustainable future for Exeter Cathedral. The restoration team intends to lay a new underfloor heating system and floor adorned with locally sourced stone tiles, inspired by the designs of 19th-century architect George Gilbert Scott.
This article is based on reports from BBC News, Smithsonian Magazine, and Live Science.