Divers exploring the waters off the northeastern shore of Sardinia, Italy, near the town of Arzachena, have discovered tens of thousands of ancient bronze coins dating back to the first half of the fourth century.
The find, sparked by a diver's observation of something metallic, has led to a concerted effort by an art protection squad and the Ministry of Culture's underwater archaeology department.
The coins, known as follis, were uncovered in a bed of seagrass not far from the island's coast. The exact count of the coins is yet to be determined, but estimates based on their collective weight suggest a staggering number ranging between 30,000 and 50,000 specimens, surpassing the 2013 discovery in the United Kingdom's Seaton.
The remarkable state of preservation of these coins, with only four showing damage but still legible inscriptions, has left archaeologists astonished.
In addition to the ancient currency, the underwater exploration unveiled walls of amphorae, predominantly of African and some oriental production. The site exhibits two macro-areas of dispersion of follis in a sandy region between the beach and the seagrass, hinting at the possibility of nearby shipwrecks concealed in the underwater landscape.
The chronological context of the coins places them between 324 and 340 CE, featuring the coinage of Constantine the Great and other family members serving as caesars.
Luigi La Rocca, an official from Sardinia's archaeology department, lauded the find as one of the most important coin discoveries in recent years. He emphasized its role in underlining the richness and significance of the archaeological heritage embedded in the seabed of the Mediterranean, a crossroads of human and trade activity since ancient times.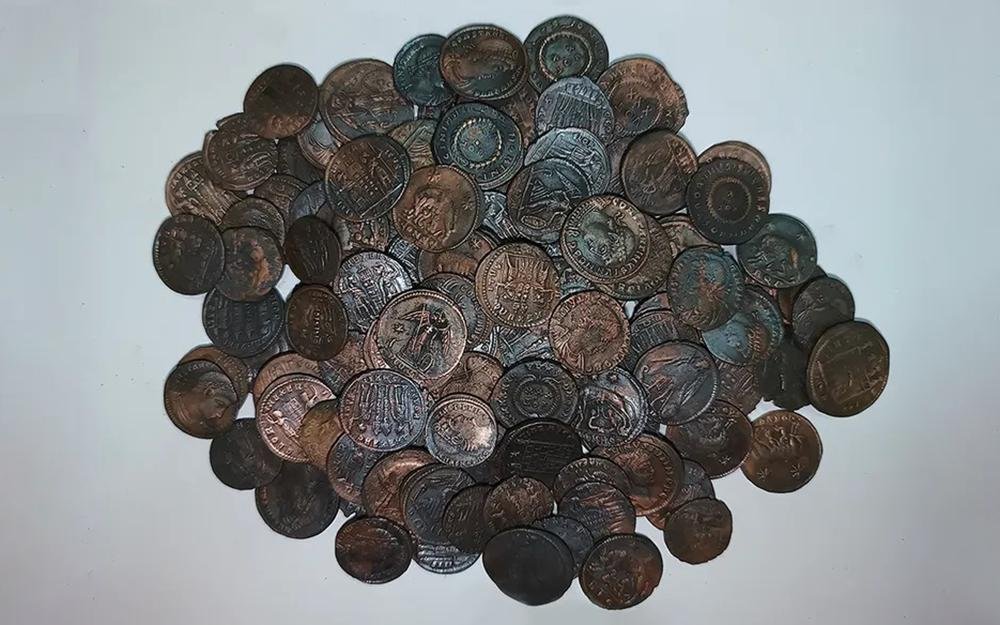 This remarkable underwater treasure adds to the growing body of evidence supporting the need for safeguarding the Mediterranean Sea's archaeological heritage. The archaeologists plan to meticulously study and restore the coins, aiming to unravel more about their origins and the people who used them.