"Giants' Tomb" (Italian: Tomba dei giganti) is the name given by local people and archaeologists to a type of ancient megalithic tomb found in Sardinia, Italy.
These tombs are known for their impressive and monumental architecture, often featuring large stone slabs arranged to resemble a house or a trapezoidal shape. They were built by the Nuragic civilization, an ancient culture that inhabited Sardinia from the Bronze Age to the Iron Age (approximately 1800 BCE to 2nd century BCE).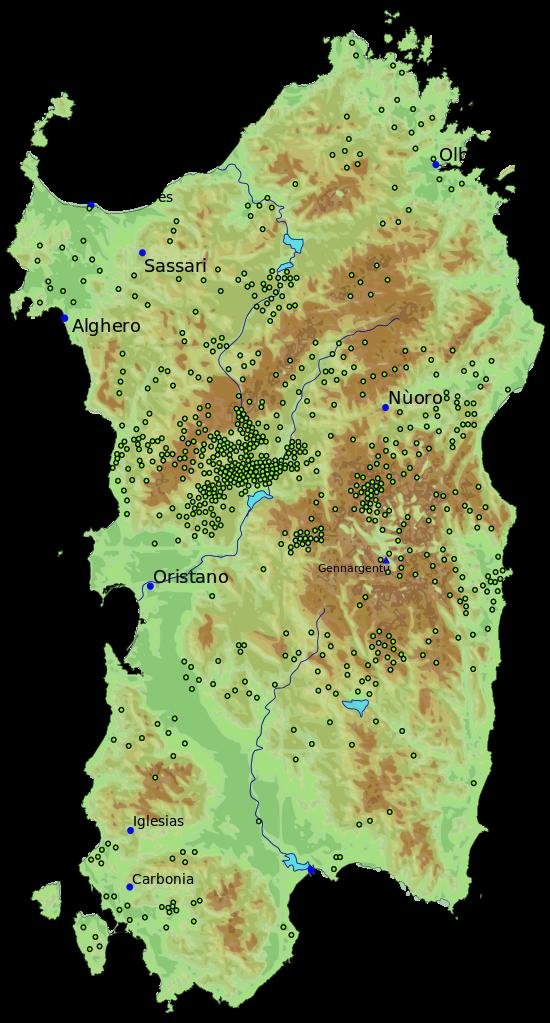 Types
The tombs typically consist of a central burial chamber made of large stone slabs, surrounded by smaller stone circles or cairns. The Nuragic people placed funerary objects and offerings inside these tombs, including pottery, tools, and sometimes human remains.
Two main categories of giants' tombs exist. In what is referred to as the "slab type," unshaped slabs are interred vertically into the ground and are positioned alongside one another. Typically, there is a central upright stone, known as a stele, which stands as the largest slab and can reach heights of up to 4 meters; this central stone includes a doorway that is carved through its body.
In the less sophisticated form of slab-type giants' tombs, the central stone remains unaltered, aside from an entrance that is cut at its base. Alternatively, a rudimentary configuration reminiscent of a dolmen is formed using three unshaped rocks to create the entrance (examples include Osono, Sortali, Lolghi, Pescaredda). In more developed versions of slab-type giants' tombs, the central stone is modified to have a rounded top and features a straightforward design etched into its front surface (such as Dorgali, Goronna, Santu Bainzu, Coddu Vecchju).
These sepulchral structures adhere to a distinctive rectangular layout with an apse. The burial chamber itself typically spans between 5 to 15 meters in length and stands 1 to 2 meters high. Originally, these constructions were covered by mounds resembling the shape of an overturned ship. In proximity to the entrance, it is customary to find an obelisk (known as a "betile" in Sardinian), which serves as a symbol for the gods or ancestors who safeguarded the deceased.
The other variety, known as the "block type," are tombs constructed using rectangular-cut blocks (examples include Bidistili, Madau II, Seleni II, Iloi, Mura Cuata).
Similar structures to the block-type giants' tombs are also found on the island of Malta, in the United Kingdom, and in Menorca (naveta).
List of major tombs:
Su Mont'e s'Abe, near Olbia
Sa Dom'è s'Orcu, near Quartucciu
Osono, near Triei
Sa Dom'è s'Orcu, Siddi
Aiodda, near Nurallao
Coddu Vecchiu and Li Lolghi, Arzachena
S'Ena'e Thomes, Dorgali
Imbertighe, Borore
Madau, Fonni
Muraguada, Bauladu
Sa Farch'e S'Artare, Seneghe
Tomb of San Cosimo, near Gonnosfanadiga
Bainzu, Borore