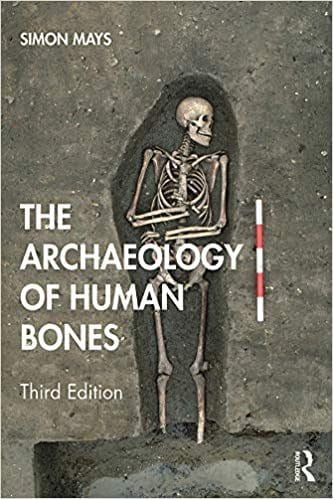 by
Simon Mays
(Author)

Publisher: Routledge; 3rd edition
Publication date: March 2, 2021
Language: ‎English
Print length: ‎452 pages
ISBN-10: ‎1138045675
ISBN-13: ‎978-1138045675
The Archaeology of Human Bones provides an up to date account of the analysis of human skeletal remains from archaeological sites, introducing students to the anatomy of bones and teeth and the nature of the burial record.
This book, based on research from around the world, shows how the scientific study of human remains can shed light on important archaeological and historical topics. The latest advances in scientific methodology and their application to burial archaeology are reflected in this new version. Current scientific methods are described, as well as their strengths and weaknesses.
The book has also been fully revised to reflect changes in the ways that scientific studies of human remains have influenced our understanding of the past, and updates in ethical debates surrounding the treatment of human remains. There is now a separate chapter devoted to archaeological fieldwork on burial grounds, and the chapters on DNA and ethics have been completely rewritten.
Simon Mays works for Historic England as a Human Skeletal Biologist in Portsmouth, UK. He is also a Visiting Lecturer at the University of Southampton's Department of Archaeology, and an Honorary Fellow at the University of Edinburgh's School of History, Classics, and Archaeology.
His study interests span all areas of archaeological human skeletal remains. Advances in Human Palaeopathology (2008), edited with Ron Pinhasi, and The Bioarchaeology of Metabolic Bone Disease, 2nd edition (2020), authored with Megan Brickley and Rachel Ives, are among her previous publications.