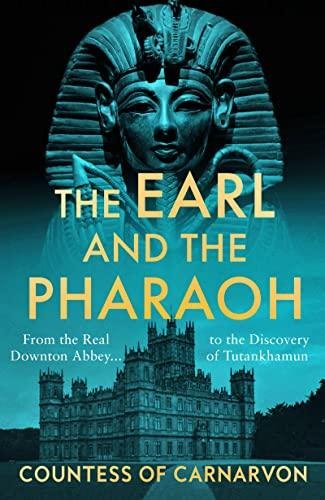 by Countess of Carnarvon (Author)
Publisher: ‎Harper
Publication date: December 6, 2022
Language: ‎English
Hardcover: ‎272 pages
ISBN-10: ‎0063264226
ISBN-13: ‎978-0063264229
On the centennial of the discovery of Tutankhamun's tomb, best-selling author Lady Fiona Carnarvon explores the unparalleled life of family ancestor George Herbert—the famed Egyptologist, world-traveler, and 5th Earl of Carnarvon behind it—whose country house, Highclere Castle, is the setting of the beloved series Downton Abbey.
The world was mesmerized in November 1922 by news of an incredible historical find in Egypt's legendary Valley of Kings: the uncovering of the tomb of Egyptian Pharaoh Tutankhamun. George Herbert, a well-known amateur Egyptologist and antiquities collector, financed the expedition and excavation headed by lead archaeologist Howard Carter and joined him inside this sacred space that had been untouched for centuries.
Inside the tomb, the researchers discovered King Tut's sarcophagus and a treasure trove of incredible treasures, including board games and paintings, chariots and model boats, and a pure gold coffin. These artefacts, however, were more than just perfectly crafted works of art; they shed new light on Tutankhamun's world and this fabled period of history, and changed our understanding of how the ancient Egyptians lived, changing what had been formed through centuries of history and myth.
Lady Fiona Carnarvon pays homage to her ancestor on the 100th anniversary of this incredible event, drawing on Highclere Castle's archives. She depicts the larger-than-life characters and lustrous settings, as well as the twists of luck and tragedies that formed Herbert's life, in vivid and dramatic detail.
Highclere saw no less drama than the fictitious Downton Abbey in the early 1900s, with early tragedies for the Earl and love affairs, as well as highs of exorbitant wealth and trials of punishing debt.
Above all, there was adventure. While Herbert initially went to Egypt for his health, this mysterious, fascinating land would become a second home; the adored location where he funneled his attentions over decades, never quite realizing how great the fruits of his labors would become.