Dakota the "dino mummy" has captivated paleontologists and the public since part of the fossil was first untombed in North Dakota with some of its skin preserved.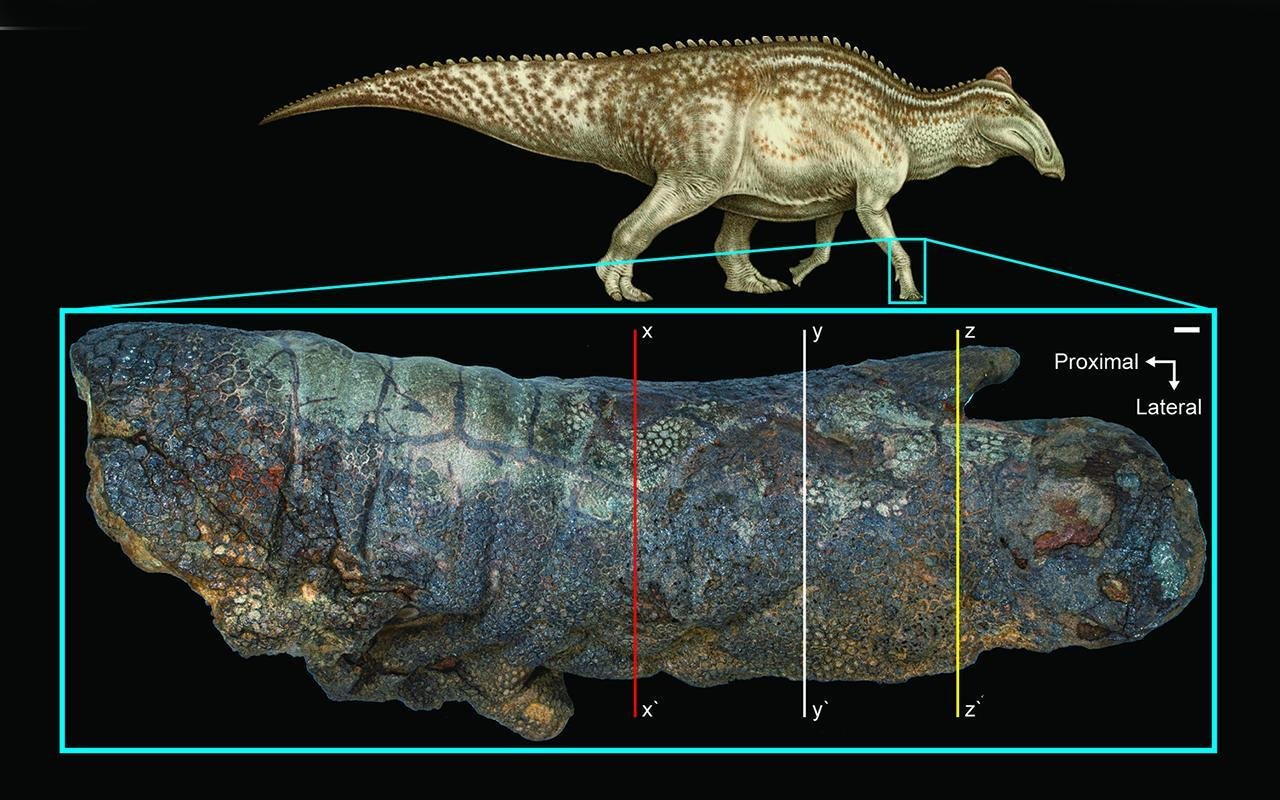 Scientists aren't finished studying Dakota, a duck-billed dinosaur, and they recently unlocked a well-preserved foot, forelimb, and more of its tail from the stone that encased the fossil. While further work is needed to properly expose this 66- to 67-million-year-old mummy, the parts of its anatomy that have already been discovered are challenging some paleontological theories.
An article published in the journal PLOS ONE on Wednesday focuses on those recently uncovered body parts and offers new insight into how fossil mummies like Dakota might have survived.
The new research also suggests that there may be far more mummified skin to be found and studied in the fossil record than previously thought if paleontologists look in the right places.
Removal or protection from biostratinomic decomposition agents such as predators and scavengers is widely seen as a requirement for high-quality preservation of soft tissues in the fossil record. Extremely rapid burial is an oft-cited mechanism for protecting remains from degradation in this context, however, not all fossils fit nicely into this paradigm.
Before this study, it was thought that mummified dinosaurs formed in one of two ways: they were either buried quickly after death, or they remained intact in an arid landscape long enough for the carcass to be preserved.
But subsequent researches into the sediments surrounding the fossil suggest that Dakota lived in a humid, wet environment rather than a dry, arid one. In its final moments,Its body lay close to a water source.
Bite marks recently found on its bone and skin suggest that this animal was scavenged by a variety of carrion feeders, including ancestors of modern crocodiles and maybe carnivorous dinosaurs like young T. rex or Dakotaraptors. Why didn't this dinosaur's soft skin rot away if it died near water and was scavenged by predators?
A new answer to this question started with Stephanie Drumheller, a paleontologist and expert in bite marks at the University of Tennessee, Knoxville. CT scans showed the preserved skin was deflated, rather than compressed by sedimentary stone pressed down on it.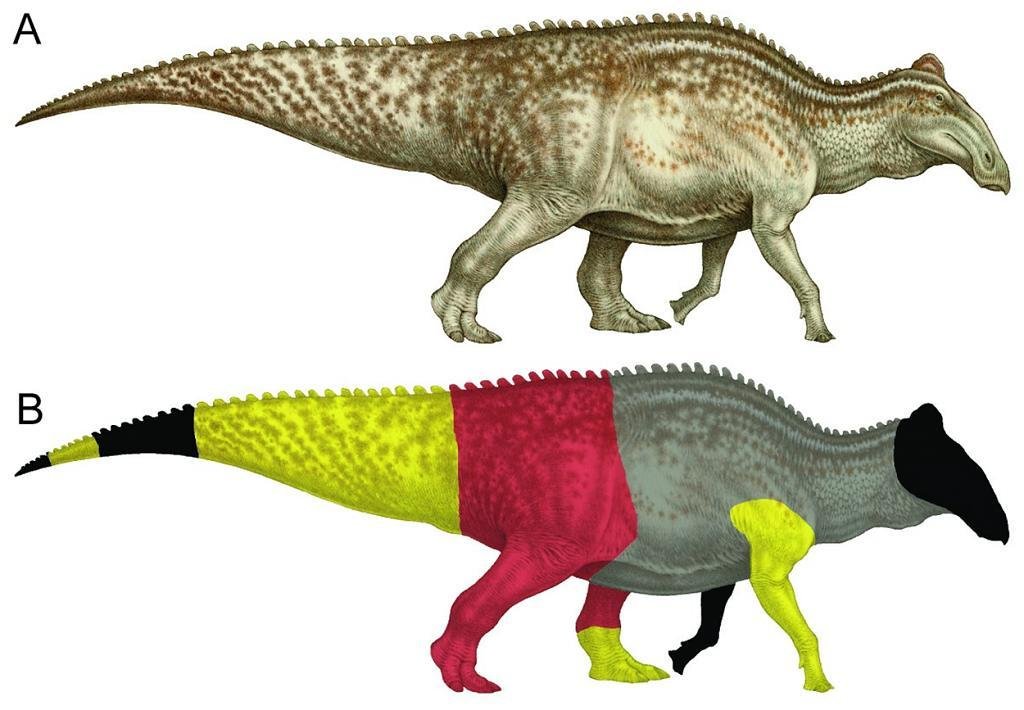 This was difficult to explain until Dr. Drumheller realized she'd seen something like other preserved remains. But not dinosaur fossils. Rather, in human and mammalian bodies that were used in forensic anthropological research.
"This is weird and unexpected if you've only read the paleontological literature dealing with mummies," Dr. Drumheller stated. "But it's really in line with the forensic anthropological literature."
Incomplete scavenging, the team asserts, can actually help preserve an animal, even a dinosaur. Large predators may take chunks out of the animal, but they're after the more nutritious muscle and internal organs. The gouges they make in pursuit of that meal also allow gasses and liquids to escape the body. What remains on the landscape is a body of skin and bones that then slowly desiccates and deflates, eventually preserved for the eons.
For the past three years, removing more of Dakota's fossils from stone has been the work of Mindy Householder, another co-author of the study and a preparator at the State Historical Society of North Dakota. Her early work as a fossil preparator didn't even include the possibility of fossil skin. Locating the bone within and removing it from the stone in which it was preserved, she said, was the focus of her training, and such methods may result in preserved skin being lost. It wasn't until working on Dakota that this began to change.
The evidence she and her colleagues discovered, she said, may mean that "skin is more common than we thought it was." And this, she added, "definitely should change" how fossils are treated. — The New York Times.
More information: Drumheller SK, Boyd CA, Barnes BMS, Householder ML (2022) Biostratinomic alterations of an Edmontosaurus "mummy" reveal a pathway for soft tissue preservation without invoking "exceptional conditions". PLOS ONE 17(10): e0275240. https://doi.org/10.1371/journal.pone.0275240