Archaeologists excavating in a cave in southern France claim to have discovered evidence of Europe's earliest bow-and-arrow use.
Bows and arrows were first used in Europe much earlier than we previously thought. Homo sapiens living in a cave in the Rhône Valley around 54,000 years ago most likely used archery to hunt bison, horses, or deer. Researchers claim the site holds hundreds of small stone points that closely resemble other known arrowheads.
Researchers believe the cave's inhabitants were the first Homo sapiens to arrive in a region long occupied by another group of hominins, the Neanderthals.
In the site, the researchers discovered over 300 tiny arrowheads intricately crafted in a style known as Neronian. The arrowheads varied in size from 10 to 60 millimeters,
About 200 of the surprisingly tiny arrowheads showed impact and damage patterns that indicated they had been thrust, thrown, or mechanically propelled in some way.
Laure Metz, an archaeologist at Aix-Marseille Université in France, and her team undertook a series of experiments with replica weapons to understand how the points were used.
It's possible that advanced projectile weaponry, such as a bow and arrow, gave these early Europeans an advantage over Neanderthals, who disappeared about 40,000 years ago, according to the researchers.
Some of the larger points would have been used effectively with spears or darts. But only a bow and arrow could have generated the force needed to wound or kill an animal with the smallest points, said Laure Metz. "It's not possible to use these tiny points with something other than a bow and arrow."
While the points were tiny, Metz believes they were used to hunt relatively large animals such as horses, deer, or bison, the remnants of which were discovered in the cave. She had not, however, rule out the possibility that they were used as weapons to harm other humans.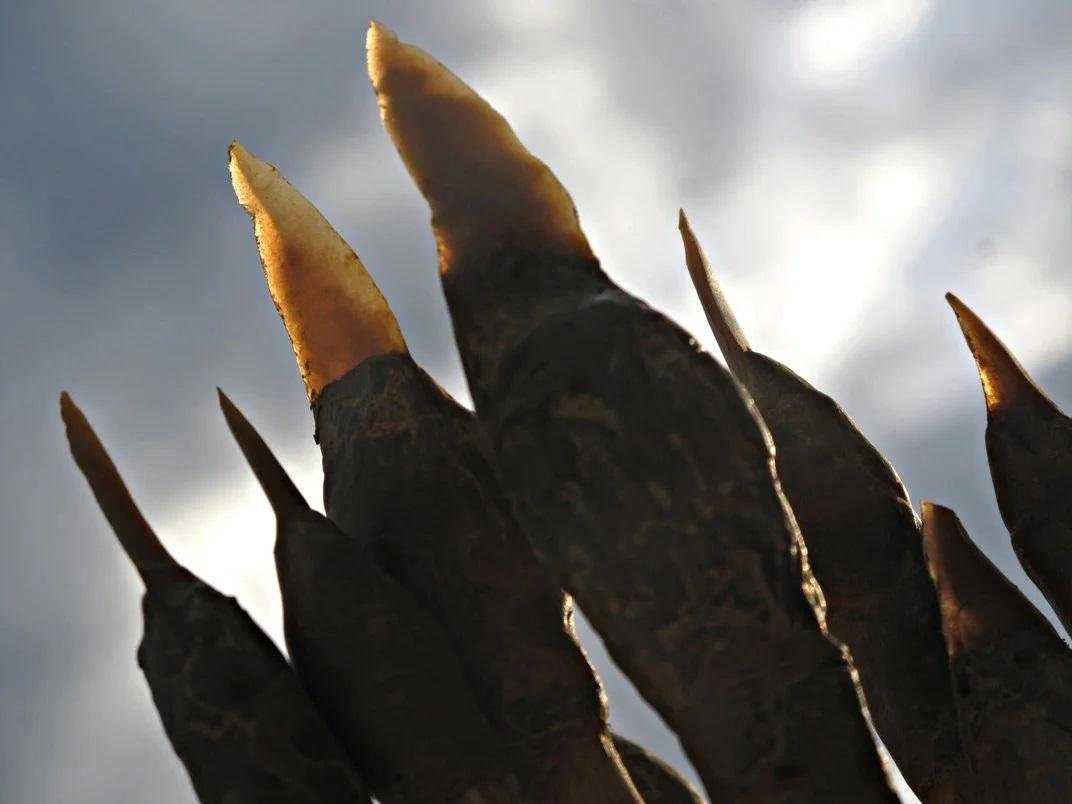 "The tips from Mandrin could hardly have been used in any other way than to tip arrows," said Marlize Lombard at the University of Johannesburg in South Africa, who wasn't involved in the study.
The earliest evidence of the usage of a bow and arrow dates to 64,000 years ago in South Africa. Prior to this latest discovery, the earliest hard evidence of bow and arrow use in Europe came from wooden bows and arrow shafts discovered preserved in peat bogs in Northern Europe around 12,000 years ago.
The study was published in the journal Science Advances.
More information: Laure Metz,Jason E. Lewis, Ludovic Slimak. (2023).Bow-and-arrow, technology of the first modern humans in Europe 54,000 years ago at Mandrin, France, Science Advances, 9, 8, DOI: 10.1126/sciadv.add4675