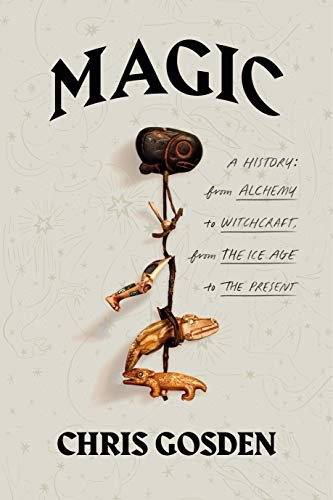 by Chris Gosden
Publisher: ‎Farrar, Straus and Giroux
Publication date: November 10, 2020
Language: ‎English
Hardcover: ‎512 pages
ISBN-10: ‎0374200122
ISBN-13: ‎978-0374200121
Shortlisted for the 2021 PEN Hessell-Tiltman Prize for History; Longlisted for the Non-Obvious Book Award
An Oxford professor of archaeology, Chris Gosden, delves into the intriguing history of magic, which represents one of the oldest yet often overlooked aspects of human behavior, while also exploring its resurgence in contemporary times.
Throughout human history, three fundamental belief systems have prevailed. Religion involves a connection with one or multiple deities who wield influence over our lives and destinies. Science, on the other hand, separates us from the world, casting us as mere observers and gatherers of knowledge. Lastly, there's magic, which allows direct human engagement with the universe—where we can influence the world around us, and, conversely, the world can influence us.
In recent centuries, magic has suffered from a tarnished reputation. This can be attributed to the dubious practices of unscrupulous magicians, as well as a successful campaign by both religion and science to discredit magic as antiquated, irrational, and "primitive."
In "Magic," Chris Gosden restores magic to its essential place in the history of the world. He reveals magic as a timeless aspect of human behavior that holds significance for individuals and entire cultures. Gosden's captivating journey spans ancient Greek, Roman, and Jewish magical curses and charms, explores the shamanistic customs of Eurasia, indigenous America, and Africa, and delves into the mysteries of alchemy during the Renaissance and the condemnation of magic in the colonial era. It even touches upon the enigmatic world of modern quantum physics, offering a fresh chapter in the narrative of our civilization.
Drawing upon decades of worldwide research, which includes everything from the earliest known horoscope to an exiled statue and the mystical powers of tattoos, Gosden highlights what magic can teach us today and how we might leverage it to reconsider our relationship with the world. "Magic" is an unparalleled and expansive scholarly work that offers eye-opening insights bound to captivate its readers.
About the Author
Chris Gosden holds the position of professor of European archaeology at the University of Oxford. He formerly worked as a curator and lecturer at the Pitt Rivers Museum, Oxford, where he encountered numerous magical artifacts presented in a scientific context. Gosden is a Fellow of the British Academy and the Society of Antiquaries, showcasing his esteemed expertise in the field.
Reviews
"Chris Gosden achieves the holy grail of bringing together the disparate narratives of magic, science, witchcraft and religion into an intellectual crucible to forge a bold new intellectual history. This magisterial work changes the discourse beyond its own discipline and inspires radical new thinking." ―Judges' citation, PEN Hessell-Tiltman Prize for History
"Enlightening . . . Gosden persuasively argues that magic, religion, and science have always existed in tandem, forming a 'triple helix' of understanding running through the course of human history up to the present day. In light of the current climate crisis, and inspired by the discoveries of quantum physics, Gosden furthermore makes a compelling case for a return to the kind of interconnected perspective central to most magical traditions . . . A fascinating exploration of magic's hold on the human imagination." ―Sara Shreve, Library Journal (starred review)
"Sophisticated and wide-ranging . . . Gosden's meticulous account offers many intriguing glimpses of early human societies. Readers with a deep interest in human belief systems will be captivated." ―Publishers Weekly
"Vast and transformational . . . We need, Gosden argues with the wisdom of a sage on a mountain-top, a 'new magic' for the 21st century in order to deal with the calamity of climate change." ―Frances Wilson, The Daily Mail (UK)
"[Magic] is erudite, accessible and expansive . . . Without an unfascinating page . . . [A] remarkable and endlessly interesting volume." ―Stuart Kelly, The Scotsman (UK)
"'To be human is to be connected.' Chris Gosden shows how magic explores the connections between human beings and the universe in ways different from religion or science, yet deserving of respect. A magisterial account of the central place of magic in many cultures both ancient and modern." ―John Barton, author of A History of The Bible: The Book and Its Faiths
"With his own magic touch, Chris Gosden brilliantly reveals the place of magic in human societies from the Ice Age to the present day in all inhabited continents, and shows how the exercise of magic was an everyday practice that joined the world of the dead to that of the living." ―David Abulafia, author of The Boundless Sea: A Human History of the Oceans. Amazon.com