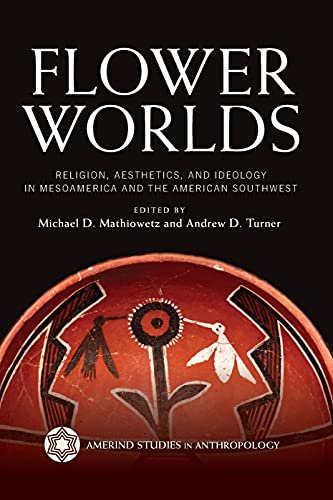 by Michael Mathiowetz (Editor), Andrew Turner (Editor)
Publisher: University of Arizona Press
Publication date: May 4, 2021
Language: ‎English
Hardcover: ‎368 pages
ISBN-10: ‎0816542325
ISBN-13‏: ‎978-0816542321
The recognition of Flower Worlds is one of the most significant breakthroughs in the study of Indigenous spirituality in the Americas. These worlds are solar and floral spiritual domains that are widely shared among both pre-Hispanic and contemporary Native cultures in Mesoamerica and the American Southwest. Flower Worldsis the first volume to bring together a diverse range of scholars to create a truly multidisciplinary understanding of Flower Worlds. During the last thirty years, archaeologists, art historians, ethnologists, Indigenous scholars, and linguists have emphasized the antiquity and geographical extent of similar Flower World beliefs among ethnic and linguistic groups in the New World.
This comprehensive book illuminates the origins of Flower Worlds as a key aspect of religions and histories among societies in Mesoamerica and the American Southwest. It also explores the role of Flower Worlds in shaping ritual economies, politics, and cross-cultural interaction among Indigenous peoples.
Flower Worlds reaches into multisensory realms that extend back at least 2,500 years, offering many different disciplines, perspectives, and collaborations to understand these domains. Today, Flower Worlds are expressed in everyday work and lived experiences, embedded in sacred geographies, and ritually practiced both individually and in communities. This volume stresses the importance of contemporary perspectives and experiences by opening with living traditions before delving into the historical trajectories of Flower Worlds, creating a book that melds scientific and humanistic research and emphasizes Indigenous voices.
Contributors: Oswaldo Chinchilla Mazariegos, James M. Córdova, Davide Domenici, Ángel González López, Kelley Hays-Gilpin, Michael D. Mathiowetz, Cameron L. McNeil, Felipe S. Molina, Johannes Neurath, John M. D. Pohl, Alan R. Sandstrom, David Delgado Shorter, Karl A. Taube, Andrew D. Turner, Lorena Vázquez Vallín, Dorothy Washburn
Review: "The authors are coming at Flower World concepts from different directions and perspectives, and these different ideas and perspectives speak together in a way that helps further the conversation. This volume is not about concluding ideas but about continuing the conversation. I was impressed by the multitude of strong voices—both past and present—representing elements of the Flower World. This volume will be of lasting importance in the cross-cultural study of Flower Worlds."—John G. Douglass, co-editor of The Global Spanish Empire: Five Hundred Years of Place Making and Pluralism
"The editors have succeeded in assembling a diverse lineup of scholars who address the underlying Flower Worlds of Mesoamerica and the American Southwest from the perspectives of ethnography, ethnohistory, archaeology, literature, and art history. This volume is a valuable contribution that breaks the false boundaries between those regions and will drive home the need for more study of the arts in precolonial contexts."—Christopher S. Beekman, co-editor of Shaft Tombs and Figures in West Mexican Society: A Reassessment. Amazon.com