Students from MSRS College, Shirva, embarked on a practical expedition that led to the unearthing of a fascinating four-paneled stone inscription believed to date back to the Vijayanagara Empire (1336-1646), according to Deccan Herald.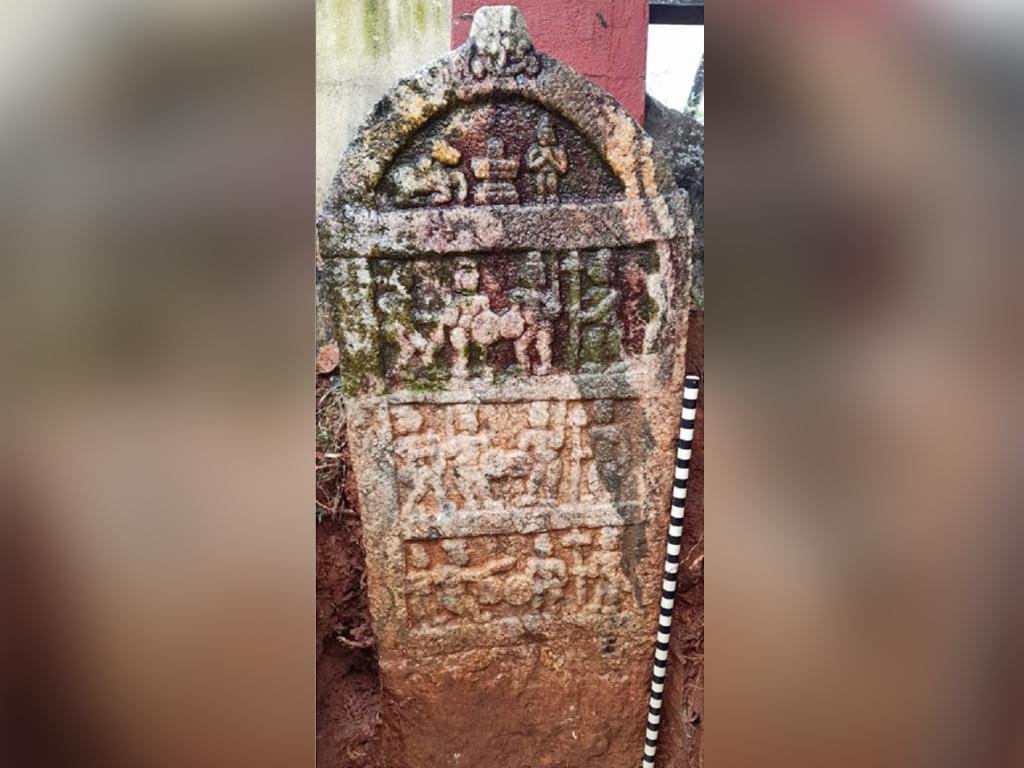 This intriguing artifact depicts scenes of a hero's valiant fight and battle. The discovery took place in Teggarse, a quaint village nestled within Udupi district's Byndoor taluk. The significant find was made possible through a collaborative effort between the archaeology students, faculty, and the local community.
T. Murugeshi, an Associate Professor of Ancient History and Archaeology at MSRS College, provided insights into the stone's historical and cultural significance. He explained that the stone had been concealed near the residence of T. Narayana Hegde in Teggarse. With dedicated effort, the students carefully excavated the stone to reveal its captivating narrative.
"The hero stone that is under study narrates an interesting story of a deceased hero. In all four panels, the deceased hero is shown in the same headgear and the same facial expression on the right side. But, in three panels, three heroes in three different headgear and with totally different faces are shown. This indicates that the deceased hero had fought with three different persons. Thus, it is a sword fight competition. The letters found on the stone bear a close similarity to the Vijayanagara style of inscription," Murugeshi stated.
The 'hero stone' was discovered on the periphery of Kambala Gadde, a location where the Hegde family of Teggarse annually conducts a thrilling buffalo race. The stone features four panels of intricate depictions, each separated by a horizontal frame.
In the bottom panel, an engaging scene unfolds with two individuals facing each other, brandishing swords and round shields, surrounded by their vigilant attendants. Notably, the man on the left is depicted advancing towards his counterpart on the right, pointedly wielding his sword.
The second panel from the bottom showcases four individuals, each holding their swords upright. The third panel portrays two pairs of individuals engaged in direct confrontation.
In the top panel, a poignant scene unfolds where the hero, believed to have met a heroic end, stands before a lingam, a symbol of Lord Shiva. To the right of the lingam, a bull is depicted. The stone's upper part is distinctly shaped like a horseshoe, featuring a central lion's head figure. While the stone bears two lines of inscription, only a few letters have been successfully deciphered, shedding light on this captivating slice of history.