Experts have found a well-preserved baby mammoth in Yukon, Canada, which is considered the most comprehensive discovery in North America.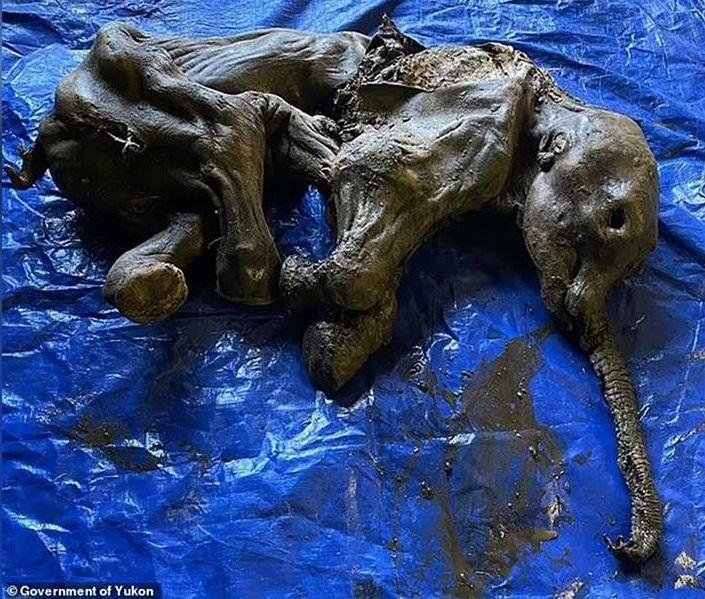 The mammoth lived more than 30,000 years ago and was given the name 'Nun cho ga,' which means 'big baby animal' in the Hän language.
It was mummified after being frozen in permafrost and was found by miners in the Klondike gold fields within Tr'ondëk Hwëch'in Traditional Territory.
The remains show the mammoth's skin still intact, with some hair clinging to the body.
Additional examination of the remains revealed that the calf was female and coexisted with wild horses, cave lions, and giant steppe bison that once wandered the Yukon thousands of years ago.
Strong collaboration between placer miners, Tr'ondëk Hwëch'in, and the Yukon government has enabled such discoveries.
The preserved mammoth, Nun cho ga, is positioned with its limbs and eyes closed, and its once sturdy trunk is now flaccid, and its body has collapsed.
Nonetheless, specialists are astounded at the degree of preservation, with the mammoth's hooves still have grooves from wear and tear.
Dr. Grant Zazula, a Yukon Paleontologist, expressed his lifelong aspiration to encounter a genuine woolly mammoth as an ice age paleontologist, which has now come to fruition.
Nun cho ga is an astonishing specimen and one of the most remarkable ice age animals ever discovered worldwide. Brian McCaughan, from Treadstone Mining, which uncovered the mammoth, claims that it is a once-in-a-lifetime experience.
While woolly mammoths were believed to have roamed Yukon, recent research suggests they may have lived there as recently as 5,000 years ago.
Experts promptly determined that the calf was approximately the same size as a 42,000-year-old baby woolly mammoth mummy called "Lyuba," discovered in Siberia in 2007.
DNA from woolly mammoths and other ancient organisms from 30,000 years ago have been discovered preserved in permafrost by researchers.
The samples were gathered in the 2010s but were stored in a freezer and forgotten.
Tyler Murchie, an archaeologist specializing in ancient DNA at McMaster University, noticed the samples and believed that they contained fascinating material that was waiting for someone to investigate.
During the Pleistocene to Holocene transition, approximately 11,000 to 14,000 years ago, numerous massive species, such as mammoths, mastodons, and saber-toothed cats, vanished.
Murchie and his team extracted and reconstructed the DNA, revealing the changing animal and plant communities at different stages of the Pleistocene-Holocene transition.
The study also indicated that Yukon horses and mammoths, which coexisted with mammoths, had already vanished from the Earth before the planet's climate became unstable.
The researchers clarified that their extinction was not caused by overhunting by humans, as was previously believed.
The evidence demonstrates that both the woolly mammoth and prehistoric horse lived until as recently as 5,000 years ago, placing them in the mid-Holocene period, which started around 11,000 years ago and is the current era we live in.
The Yukon's environment experienced a significant change due to a shifting climate during the early Holocene.
The once rich grasslands of the "Mammoth Steppe" were transformed into areas dominated by shrubs and mosses that were unsuitable for the massive herds of grazing mammoths, horses, and bison.
This led to the absence of large grazing animals in that part of North America, which hindered the survival of grasslands, according to researchers.
Hendrik Poinar, an evolutionary geneticist and the director of the McMaster Ancient DNA Centre, noted that the extensive data offers a unique glimpse into the population dynamics of megafauna and provides a more nuanced understanding of their extinction through reconstructions of past ecosystems.
Scientists at McMaster University used advanced technology to improve the dating of the extinction of ancient animals that were thought to have lived in the Yukon 9,700 years ago.
The team discovered the amount of genetic data stored in permafrost is vast and allows for unparalleled reconstruction of ecosystems and evolution.
'While mammoths are extinct, horses are not,' says Ross MacPhee of the American Museum of Natural History, another co-author.' The horse that lived in the Yukon 5,000 years ago is directly related to today's horse species, Equus caballus.
From a biological standpoint, the horse is a native North American mammal, and it should be treated as such.