In earlier decades, excavation mostly focused on the sumptuous, richly frescoed villas of Pompeii's upper-class residents. However, archaeology activity at the large site in modern-day Naples have shed light on the lives of the ancient city's lower and middle classes.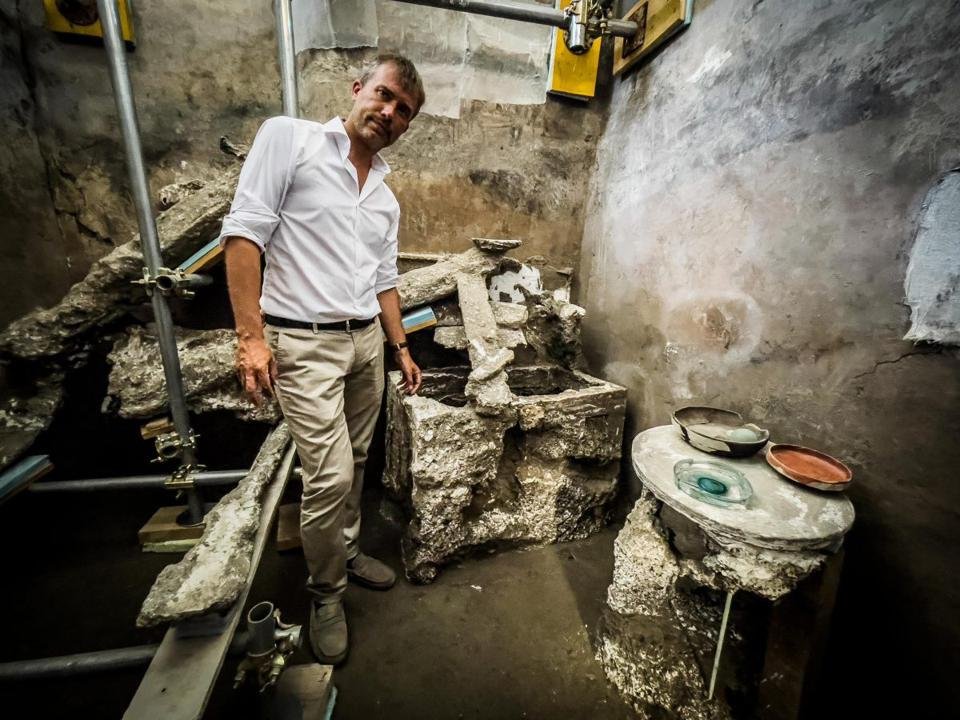 Archaeologists uncovered four new rooms in a Pompeii house filled with furniture and household objects, providing insight into a stratum of society hitherto little investigated.
Plates, vases, amphorae, and terracotta artifacts have been unearthed in chests and cabinets that were hastily abandoned as the city was destroyed.
Other remarkable finds include an exquisitely designed incense burner shaped like a cradle and a set of seven waxed tablets linked by a cord.
A wooden chest left open as residents fled the eruption had a lantern depicting Zeus' transformation into an eagle in bas-relief.
A little, three-legged round table, similar to the accent tables popular nowadays, stood nearby.
Archeologists also discovered the remains of a bed frame in a bedroom, along with a swatch of fabric from a cushion. The bed is similar to three cot-like beds discovered last year in a tiny room in another house that researchers believe served as a storeroom and sleeping quarters for a family of enslaved Pompeii residents.
A wooden cabinet that had been damaged when the ceiling collapsed during the volcanic eruption was discovered in the hallway. Small jugs and amphorae were discovered on the uppermost shelf.
A large part of a translucent, rimmed plate in stunning colours of cobalt blue and emerald, and a well-preserved incense burner shaped like a cradle, were also discovered.
It is part of site director Gabriel Zuchtriegel's effort to tell more about regular inhabitants' life after the city was destroyed by a devastating volcanic eruption in 79 AD.
The rooms are in the House of Lararium, which was named after the discovery of a lararium devoted to protective domestic spirits known as lares in 2018.
The rest of the structure features a courtyard with murals depicting plants, birds, and hunting scenes.
"There was an ample chunk of the population in the Roman empire that struggled with their social status and for whom 'daily bread' was anything but a given," Zuchtriegel remarked. "A vulnerable class during political crises and food shortages, but also ambitious about climbing the social ladder."
While the courtyard had an exceptionally well-decorated cistern, "evidently, the (financial) resources weren't enough to decorate the five rooms of the home." Zuchtriegel noted. One room had unpainted walls and an earthen floor that appeared to have been used for storage.
Archaeologists used plaster casts to reproduce some of the artifacts discovered at Pompeii.