Archaeologists with Arkeologerna, a part of Sweden's National Historical Museums agency, discovered a pair of 1,200-year-old Viking-age swords standing upright from a stone tomb in a burial mound in Västmanland, Sweden.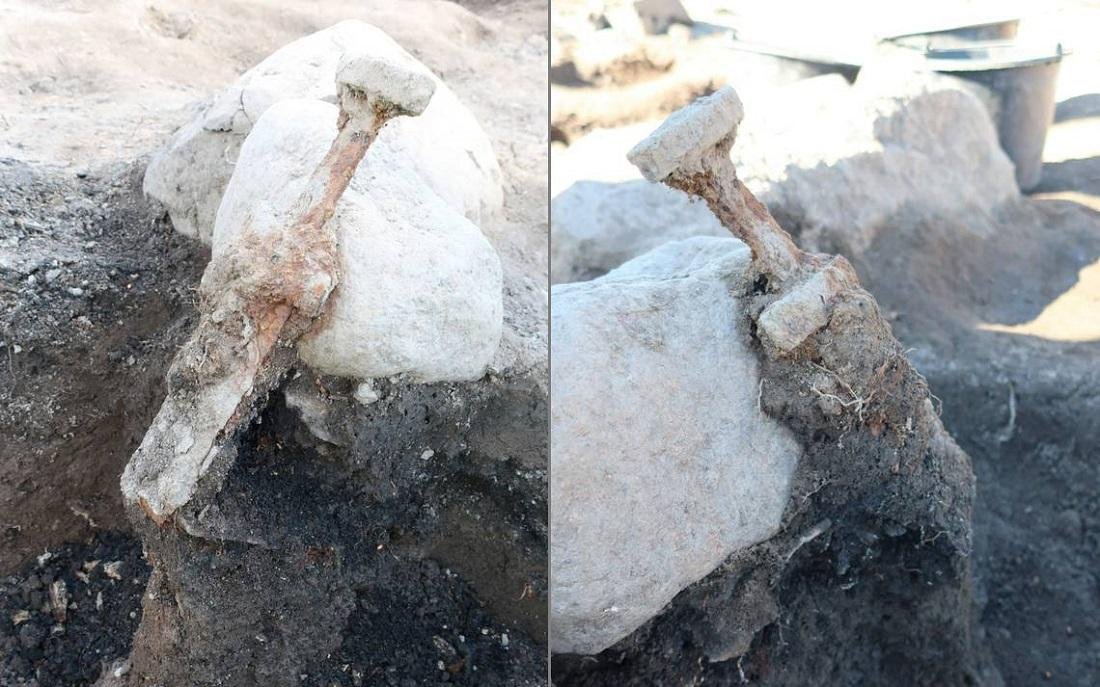 Archaeologists discovered three stone tombs on one of the burial mounds, graves added a few centuries after the original mounds. As researchers began excavating these tombs, they unearthed a pair of Viking-age swords, according to the news release.
The site has 100 graves and two burial mounds, with the discovery of three stone tombs added centuries later into one of the mounds indicating further burial activity.
Archaeologists told Live Science that whoever installed the iron swords perpendicular to the surface around 1,200 years ago did so on purpose as it would have taken a lot of effort — probably involving a rock or hammer — to wedge the weapons around 16 inches (40 centimeters) into the ground.
"The placement of the swords reflects an action with a lot of symbolism," Arkeologerna archaeologists Anton Seiler, Fredrik Larsson, and Katarina Appelgren told Live Science in an email. "When you find swords in graves — which you don't do very often — they often lie beside the buried individual, as a faithful companion on the voyage to the next world."
According to Anton Seiler, the swords could have been placed on the mound to honor and remember one's relatives, being a physical marker that family members could visit and touch 1200 years ago.
Around 20 Viking Age swords have been discovered in Västmanland, but this is the first time that two swords have been discovered in the same burial mound and left standing untouched.
Viking Age swords were expensive items, thus burying them in tombs was a "huge investment," as it rendered them "unavailable for future use," the team added. Both swords are broken and about 35 inches (90 cm) length. "They shattered when pressed into the ground, and more than 1,000 years has also contributed to degradation," the team noted.
Excavations also uncovered cremated human and animal bones, as well as a gaming piece and parts of a comb and bear claws. Archaeological remains of agricultural farming dating from the Bronze Age or older Iron Age have also been discovered, indicating earlier occupation.
According to archaeologists, burial grounds in the Viking age were considered places for both the living and the dead. Long after their burial, people would perform ceremonies, eat sacrificial meals, and otherwise interact with the dead.
The researchers are still unsure why numerous individuals were buried in the mound centuries later, or how to determine their gender. However, the remains sent for an osteological analysis should provide more insights.