Scientists have unearthed a trove of about 600 obsidian hand-axes made more than 1.2 million years ago in Ethiopia by an unknown group of hominins, the family that includes modern humans and many extinct relatives.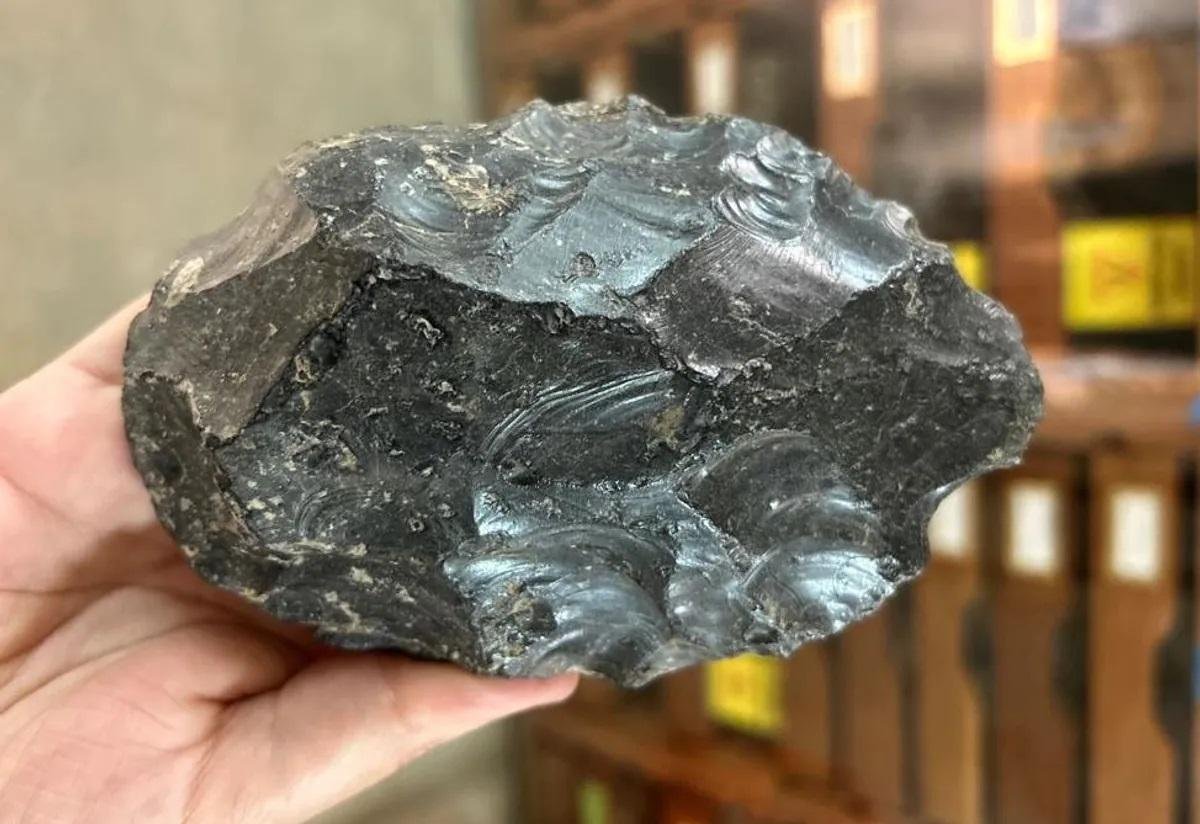 Obsidian is an igneous rock with a glassy form that is produced during the rapid cooling of volcanic lava. Due to the hard, brittle, and amorphous nature of the glass, it fractures with sharp edges, making it a reliable material for producing cutting and piercing tools.
Over the millennia, many human societies have relied on obsidian for both aesthetic and functional items. Prior study has suggested that "knapping workshops" appeared in Europe sometime between 774,000 and 129,000 years ago, during the Middle Pleistocene.
However, according to the study's authors, it is the only Early Pleistocene handaxe factory ever discovered. The finding pushes the timeline of obsidian tool usage back by an astounding 500,000 years, revealing that the hominins who lived in this part of Ethiopia, known as Melka Kunture, had to be extremely skilled crafters in order to work with this capricious material.
The group describes where the handaxes were discovered, their condition, and their age in a paper published in the journal Nature Ecology & Evolution.
"Following the deposition of an accumulation of obsidian cobbles by a meandering river, hominins began to exploit these in new ways, producing large tools with sharp cutting edges," write the researchers.
"We argue that…hominins were doing much more than simply reacting to environmental changes; they were taking advantage of new opportunities, and developing new techniques and new skills according to them," the team added.
The researchers repeatedly marvel at the axes' "morphological standardization," and while they don't know which species of human crafted them, they claim whoever created them diligently applied "secondary retouches" and was "focused on the final regularization of the artifacts."
Such abilities mark a surprisingly massive cognitive leap for such an ancient group of humans. The adaptation of existing flint knapping techniques to manufacture more challenging obsidian tools, according to the authors, is an example of "convergent thinking," which is associated with creative problem-solving.
The researchers praise the old axe makers for "creatively solved through convergent thinking technological problems such as effectively detaching and shaping large flakes of the unusually brittle and cutting volcanic glass."
More information: Margherita Mussi et al, (2023). A surge in obsidian exploitation more than 1.2 million years ago at Simbiro III (Melka Kunture, Upper Awash, Ethiopia), Nature Ecology & Evolution. DOI: 10.1038/s41559-022-01970-1