Archaeologists have made a remarkable discovery of two murals portraying men with two faces in a ceremonial hall of the Nepeña Valley in northern Peru.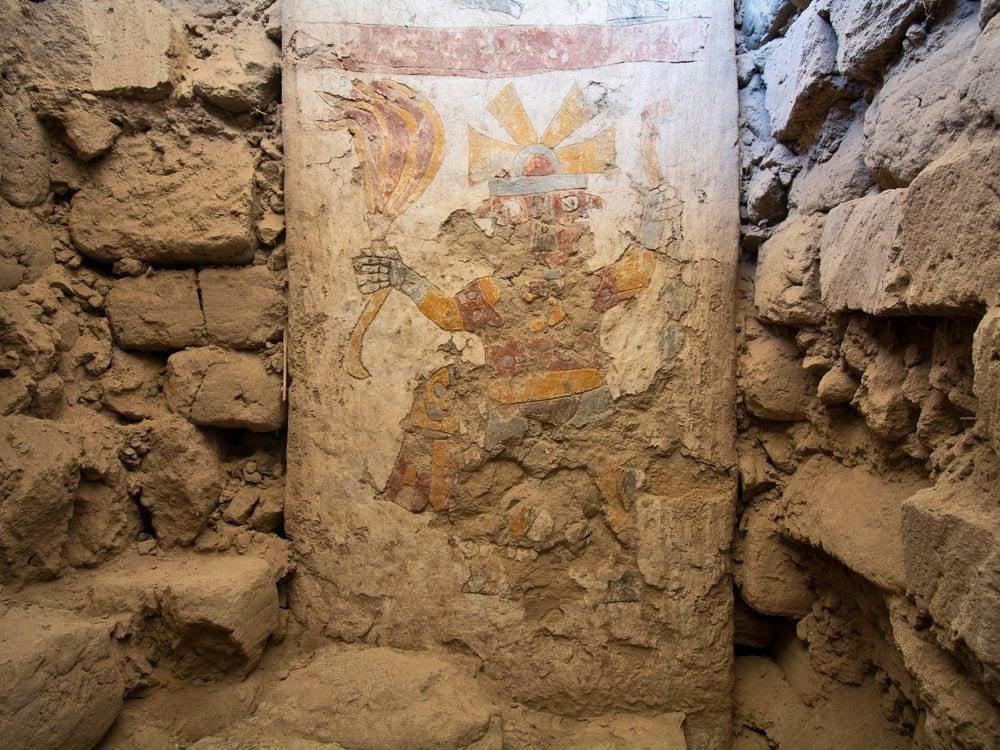 These murals are attributed to the Moche culture and are estimated to be around 1,400 years old.
The murals exhibit a high level of intricacy and detail. One of the murals features a man holding a feather fan and a goblet adorned with hummingbirds, potentially indicating themes of sacrifice and the "cosmic realms."
The second mural depicts a man holding a feather fan along with a partially obscured object.
Jessica Ortiz Zevallos, the Peruvian director of the Archaeological Research Project, emphasizes the uniqueness of these murals, which have not been observed in Moche art or any other pre-Hispanic tradition in the Andean region.
The reason behind the Moche's depiction of these two-faced men remains an enigma.
"This is an unparalleled discovery in South American archaeology. The artists behind these murals may have been engaged in an experimental exploration of depicting movement and multiple narrative moments simultaneously," explained Lisa Trever, one of the team leaders and an associate professor specializing in pre-Columbian art history and archaeology at Columbia University, told Live Science in an email.
The research conducted at the Pañamarca architectural complex was jointly led by Zevallos, Trever, and Michele Koons, an archaeologist affiliated with the Denver Museum of Nature and Science.
The team estimates that they have unearthed less than 10 percent of the paintings present at the site.
Pañamarca, constructed by the Moche people who inhabited Peru's northern coast several centuries before the Inca Empire, is believed to have been built between 550 and 800 C.E., as per expert evaluations.
"Pañamarca was a place of remarkable artistic innovation and creativity, with painters elaborating on their knowledge of artistic canons in creative and meaningful ways as the people of Nepeña established their position in the far southern Moche world," said Trever, in a statement from the team.
She further added, Our project holds the potential to initiate a new era of comprehension and admiration for Moche art, even inspiring contemporary artists who draw inspiration from these ancestral works for their own creative endeavors.
While the precise significance of the two-faced figures remains uncertain, several hypotheses have been proposed. Although they could potentially represent deities, this is unlikely since Moche art typically depicts gods with non-human attributes like wings or fangs, as explained by Trever to Owen Jarus of Live Science.
Instead, she suggests that the artists might have been experimenting with capturing movement and multiple narrative moments concurrently.
The archaeological investigation at Pañamarca has been actively conducted for more than fifty years, and the researchers plan to return to the site later this year.
"We are eager to return to Pañamarca and continue to share our findings," expressed Koons in the team's official statement. Koons further added, "It is an absolute honor to work at this important monument of the ancient world. We are only beginning to comprehend the mysteries revealed by these murals."