The sewn boat of Zambratija, which sank off the coast of Croatia, has endured the test of time remarkably well. Despite being composed of over 12 meters in length, the boat's preservation is surprisingly good, with a remarkable 7 meters still intact.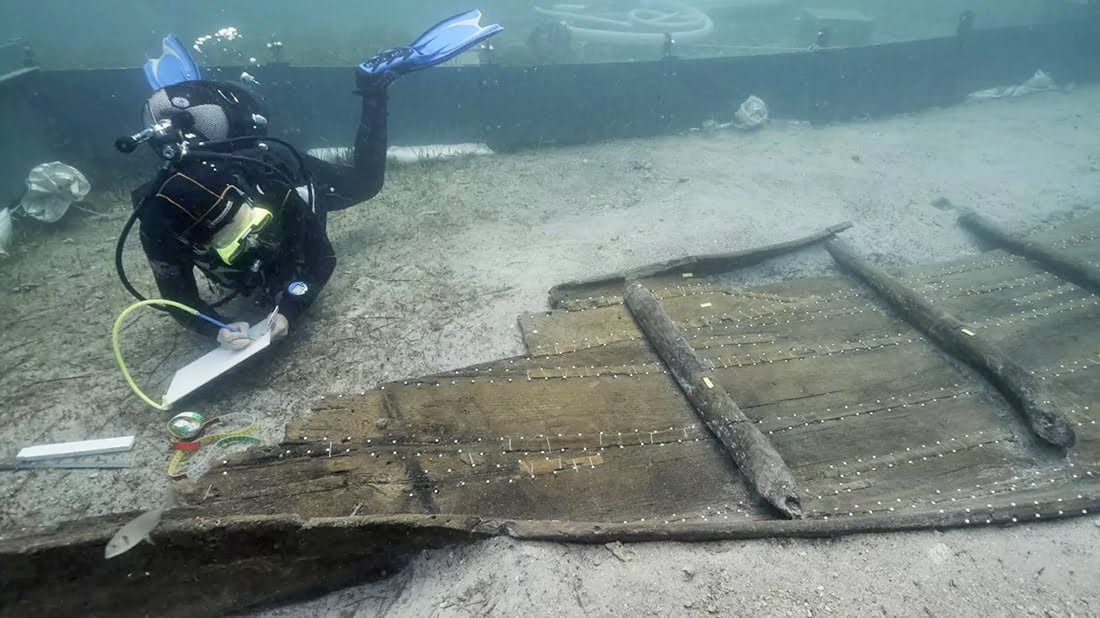 A joint team consisting of researchers from the Center Camille Jullian (CNRS/AMU) and the Archaeological Museum of Istria (Pula, Croatia) will closely examine this sunken vessel.
It dates back to the period between the late 12th century BCE and the late 10th century BCE, making it the oldest known completely hand-sewn boat in the Mediterranean.
The construction of this boat involved meticulous craftsmanship, with workers using pliable fibers to stitch together wooden pieces.
The Centre Camille Jullian (CCJ) in France, affiliated with the CNRS, described the wreck as having architectural and construction characteristics, strake assembly techniques, and a hull waterproofing system that are unparalleled in the Mediterranean region.
Additionally, the CCJ stated that due to these distinctive architectural elements, the specific assembly methods used, and the dating, the Zambratija boat can be considered as the epitome of one of the sewn boat construction traditions observed in the Adriatic.
While similar techniques were utilized worldwide, both before and after the introduction of metal components, the Zambratija boat is exceptional due to its status as a rare surviving example of the "ancient naval tradition" specific to the Istria and Dalmatia regions, as stated by the French National Center for Scientific Research (CNRS).
In 2008, local fishermen reported the presence of the vessel, prompting marine archaeologists to commence their study of the boat.
Since its discovery, researchers have been evaluating the possibility of removing it from the water, and the process of removal is scheduled to commence on July 2.
Divers will handle the boat fragments with great care, relocating each piece to a specially designed support structure. Once the boat is on land, the team will proceed with its reconstruction and initiate a detailed examination.
During the initial analysis, they will strive to establish a more precise dating for the vessel, identify its materials, and gain further insights into the woodworking techniques employed.
The CNRS emphasized the need for meticulous handling when dealing with such significant artifacts, stating in a press release that every step of the process must be approached with the utmost care.
Following the removal of the boat fragments, experts from the CCJ and the Archaeological Museum of Istria, located in Pula, Croatia, will reconstruct the boat in a three-dimensional manner. The researchers will focus on identifying the fibers utilized for sewing and examining the woodworking techniques employed.
Ultimately, the goal is to showcase the vessel in a future maritime history museum planned for Pula, Croatia, as reported by Aristos Georgiou of Newsweek.