Archaeologists from the Graubünden Archaeological Service have made an amazing discovery during excavations near an ancient settlement in the Canton of Graubünden, Switzerland.
They discovered a pit containing 80 bronze objects buried within a wooden box wrapped in leather. These artifacts date back to the late Bronze Age, from the 12th to 11th century BCE. The collection includes sickles, axes, a saw fragment, decorative items, and raw pieces made of copper.
The intentional damage inflicted on the artifacts suggests that they were either placed as offerings or hidden for safekeeping during times of conflict.
This find is the largest and most important Bronze Age hoard ever discovered in the region. The location of the find, near a prehistoric settlement and a central trade route through the Alps, contributes to our understanding of the culture of the late Bronze Age.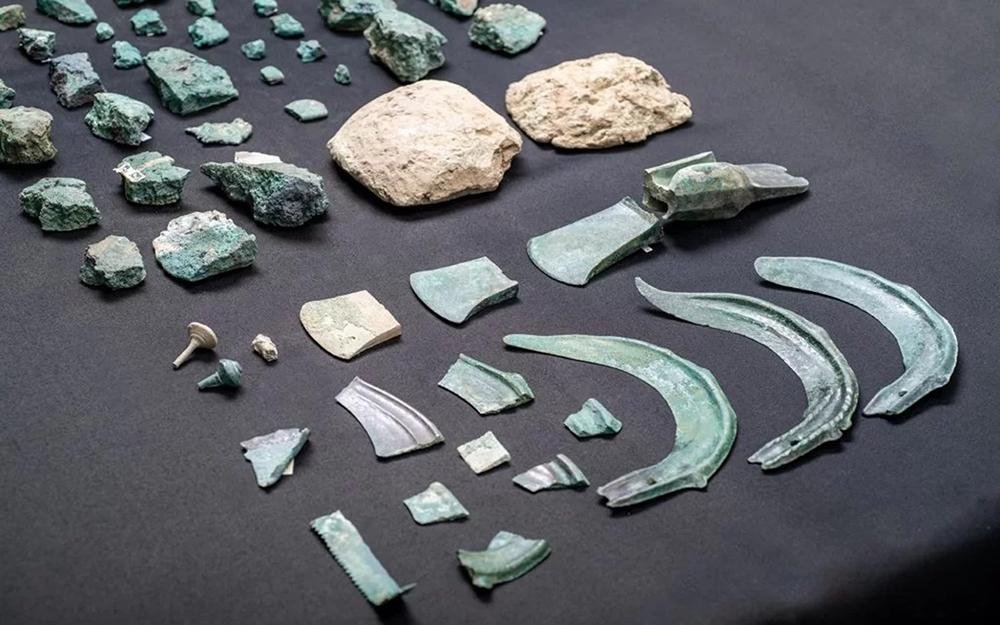 Thomas Reitmaier, an archaeologist for the Graubünden canton, expressed excitement about the find, emphasizing that the comprehensive scientific investigation that follows will offer valuable insights into the cultural, economic, and landscape history of the late Bronze Age.
The excavation was part of the CVMBAT research project, which aimed to survey the landscape for remnants of conflicts between the Romans and the Suanetes, a Rhaetian Alpine tribe.
The site, known as Vostga, is located south of the prehistoric settlement of Motta Vallac, near Salouf, and is connected to a central trans-Alpine traffic route.
In addition to the Bronze Age hoard, the Oberhalbstein Valley has also been the site of significant Roman discoveries. Since 2003, numerous Roman military artifacts have been found, including sling bullets, hobnails, and a decorated dagger.
These findings indicate a large-scale military engagement between Roman legions, led by Tiberius and Drusus, and the local Suanetes tribe in 15 BCE. The site also revealed the ruins of a Roman military camp constructed to guard the Septimer Pass.
The recent discovery of the Bronze Age hoard adds another layer of historical significance to the region. With ongoing research and further scientific investigation, the newly unearthed artifacts will provide valuable insights into the cultural, economic, and landscape history of the late Bronze Age in Graubünden, Switzerland.
Once the landscape surveys are complete, an exhibition and publication of the findings are planned for 2026.