Archaeological investigations, spearheaded by Dr. Annemieke Milks from the University of Reading, have unearthed remarkable evidence of sophisticated woodworking techniques among ancient human species predating Homo sapiens.
The focal point of this revelation is a 300,000-year-old wooden throwing stick, discovered at the Schöningen site near Hanover, Germany. This well-preserved relic, measuring 77 centimeters, was carefully crafted using an intricate process that showcased the ingenuity and skill of its creators.
The meticulous analysis of the wooden throwing stick, involving three-dimensional microscopy, CT scanning, and infrared spectrometry, enabled researchers to unveil the intricacies of its craftsmanship.
According to Discover magazine, the stick was used for hunting, potentially medium-sized game like red or roe deer, as well as agile animals such as hares and birds.
Woodworking, an ancient craft that has left scant traces over millennia due to the perishable nature of wood, was meticulously executed in the creation of this hunting implement.
The spruce branch, chosen with precision, underwent a sequence of labor-intensive steps, including bark removal, carving into an aerodynamic shape, surface scraping, seasoning to prevent cracking, and sanding for enhanced handling.
The throwing stick's aerodynamic design, featuring sharpened ends, showcased the technological expertise of its creators. This wooden projectile was potentially thrown rotationally, akin to a boomerang, rather than overhead like modern javelins. This method could have allowed early humans to achieve impressive distances of up to 30 meters. Despite its lightweight nature, the velocity of its launch likely resulted in high-energy impacts, making it an effective hunting weapon.
"The woodworking involved multiple steps including cutting and stripping off the bark, carving it into an aerodynamic shape, scraping away more of the surface, seasoning the wood to avoid cracking and warping and sanding it for easier handling," said Dirk Leder, one of the researchers, in a statement.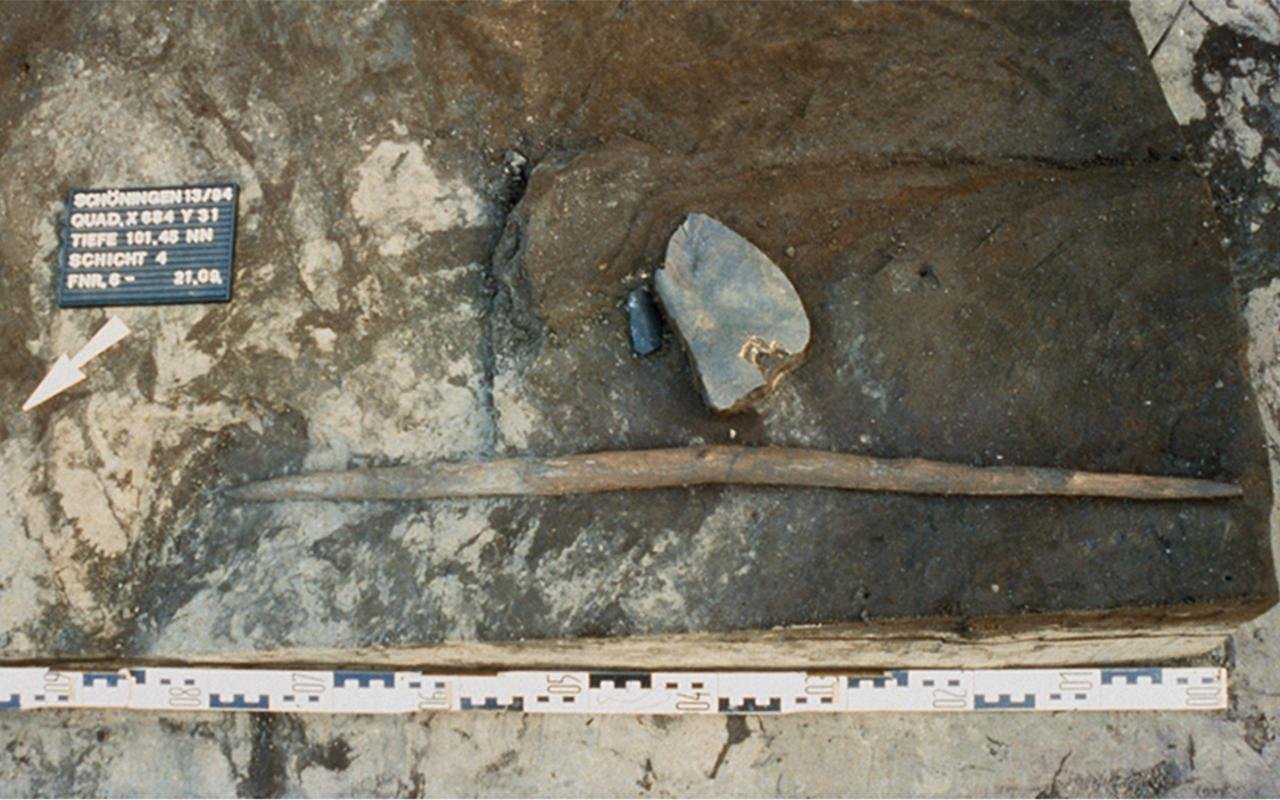 This discovery challenges previous assumptions about the technological capabilities of pre-modern human species. Dr. Milks highlighted, "Discoveries of wooden tools have revolutionized our understanding of early human behaviors."
The Schöningen site, where this exceptional artifact was found, has been a treasure trove of ancient tools. Alongside the throwing stick, a collection of wooden spears, some up to 2.5 meters in length, was also discovered. These artifacts indicate a rich history of prehistoric hunting practices, with early humans utilizing sophisticated tools to secure their sustenance.
Furthermore, the significance of these findings extends beyond mere hunting implements. The research hints at the possibility of communal involvement in hunting, where lightweight throwing sticks could have been employed collectively by the community, potentially even by children refining their hunting skills.
Similar practices have been observed in other hunter-gatherer societies, where miniature versions of adult weapons were used by children to practice and participate in the hunt.
The prehistoric throwing stick, now displayed at the Forschungsmuseum in Schöningen, stands as a testament to the remarkable ingenuity of the early human species.
Dr Milks' investigation has been published in the open-access online science journal, PLOS ONE.
More information:
Milks A, Lehmann J, Leder D, Sietz M, Koddenberg T, et al. (2023) A double-pointed wooden throwing stick from Schöningen, Germany: Results and new insights from a multianalytical study.
PLOS ONE
18(7): e0287719.
https://doi.org/10.1371/journal.pone.0287719