Archaeologists excavating the sanctuary of Tophet in Carthage unearthed a collection of offerings, Tunisia's Ministry of Cultural Affairs announced in a news release.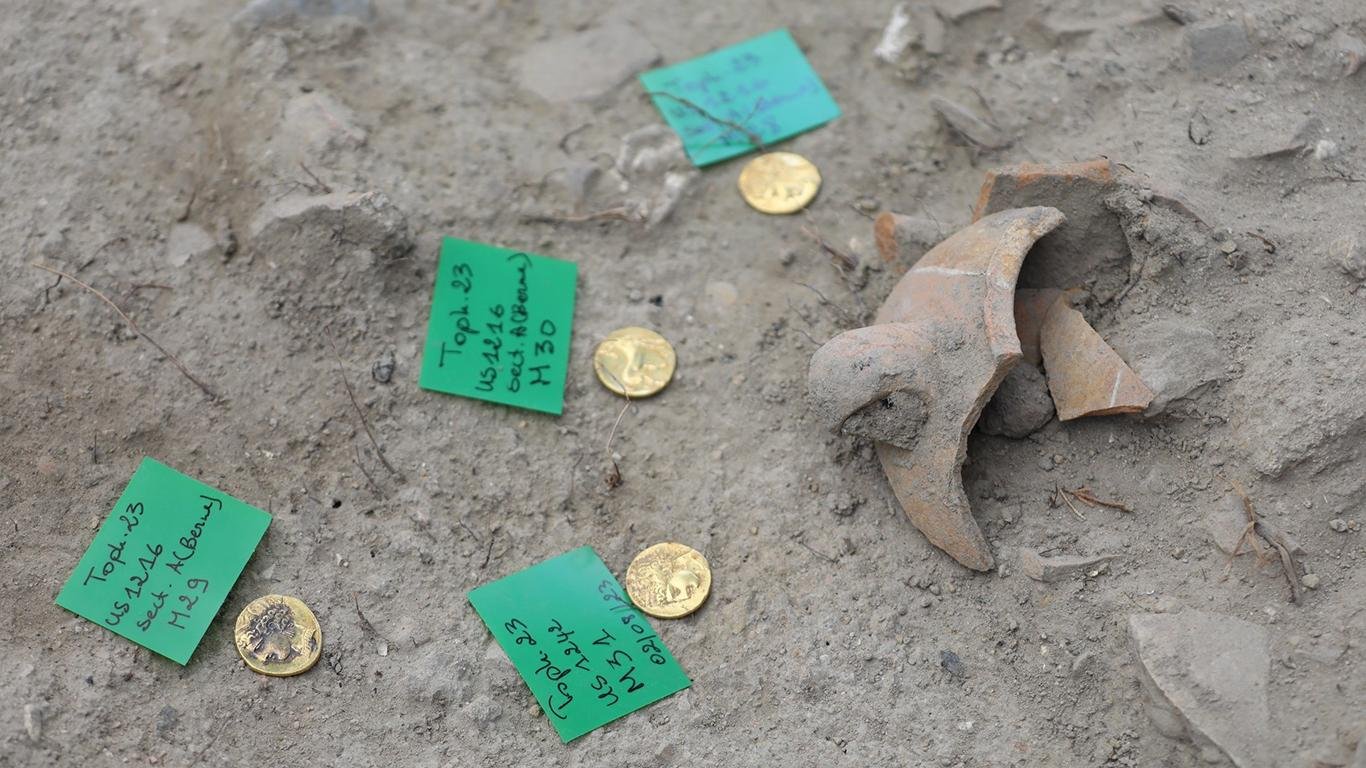 They found 2,300-year-old gold coins, tombstones, and several urns with the remains of animals, infants, and premature babies.
This monumental site, which rests on a commanding hill overlooking the Gulf of Tunis and its environs, was founded approximately 2,900 years ago by Phoenicians. Its prominence in antiquity extended from its role as a metropolis of Punic civilization in Africa to its stature as the capital of the Roman province of Africa.
Within the Sanctuary of Tophet, archaeologists found a range of offerings and artifacts. The "shrine area" within the sanctuary was dedicated to sacrificial offerings, while the cemetery section served as the final resting place for the deceased.
Remarkably, the excavation yielded a collection of five gold coins from the 3rd century BC. These rare coins, each approximately an inch in size, display the visage of Tanit, the revered ancient goddess associated with fertility and motherhood.
These coins were dedicated to the sanctuary's principal deities, the god Hammon and goddess Tanit, by affluent worshippers seeking to honor and appease the divine.
The significance of this discovery goes beyond material wealth. "These gold coins, which were recently discovered, reflect the wealth of that historical period and confirm cultural value of Carthage," explained Professor Syed Imad bin Jarbaniyah, an expert in archaeological and historical research and the Director of the National Institute of Heritage's Department of Programming, Cooperation, Publishing, and Training.
The Sanctuary of Tophet, a revered space dedicated to the gods Tanit and Baal Hammon, emerges as a paramount Punic monument in the broader context of Carthaginian history.
However, the site is not without its controversies. Ancient sources and artifacts, including the discovery of over 20,000 urns containing the ashes of children, suggest the practice of child sacrifice. While historical records substantiate this practice, interpretations vary among scholars, with alternative theories positing the urns as repositories for children who died of natural causes.
The archeological community's broader engagement with historical findings has yielded analogous discoveries around the globe.
The coins found at the site of ancient Carthage are not the only recent discovery of ancient coins. In England, a metal searcher uncovered two gold coins from different historical eras in a field. Similarly, a recent dig at the ruins of a German monastery unveiled several 500-year-old gold coins.