A recent archaeological discovery has illuminated the history of Sarsina, a tranquil village nestled in Italy's Emilia-Romagna region. The village has long been associated with ancient history. Now, it's attracting attention due to the unearthing of a remarkably well-preserved Roman temple, believed to be a capitolium, dating back to the 1st century BCE.
In antiquity, Sarsina was a settlement of the Umbri, an Italic people who eventually succumbed to Roman conquest during the 3rd century BCE.
Following the annexation of Umbri territories, Sarsina emerged as a prominent hub in a pastoral district. It also happens to be the birthplace of Plautus, a renowned Roman playwright whose comedies are among the earliest surviving Latin literary works.
The temple's unveiling occurred serendipitously during modern construction efforts in December 2022, which included plans for a parking lot, fitness center, and playground. As workers cleared the area for these new facilities, they stumbled upon the ancient ruins, halting their original construction plans.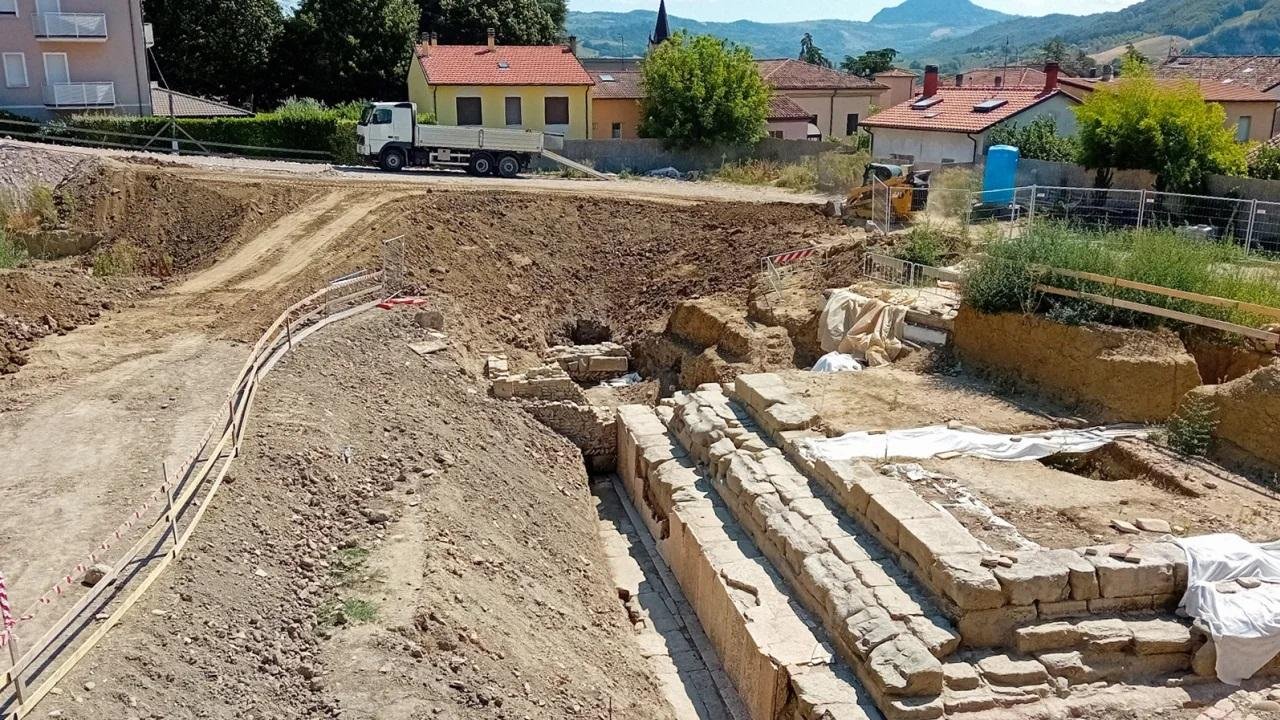 The temple, identified as a capitolium, is an impressive structure constructed from horizontal sandstone blocks and marble slabs, covering an area of 577 square meters.
Archaeologists have identified three separate rooms within it, likely dedicated to the Roman gods Jupiter, Juno, and Minerva. This discovery has led to speculation that Sarsina may have served as a significant trade hub, connecting various Roman cities in the northern and central regions of Italy.
What makes this finding exceptional is the temple's remarkable state of preservation. Unlike many similar structures that fell victim to plundering, invasions, and repurposing over the millennia, Sarsina's capitolium remains nearly untouched. Its entrance staircase, along with other architectural elements, has survived the test of time.
The capitolium is a testament to the strategic role Sarsina played during the Roman Empire, situated near the Tuscan border and overlooking the vital Savio River, which connected central and northern Roman cities.
Local authorities are now reconsidering their construction plans, with a commitment to preserving the ancient ruins. Federica Gonzato, the superintendent of archaeology, fine arts, and landscape for the provinces of Ravenna, Rimini, and Forlì-Cesena, is passionate about ensuring the temple's protection and further exploration. She emphasizes that the temple's discovery sheds light on the rise and fall of ancient Roman towns over time, making it a crucial piece of Italy's historical puzzle.
Beyond the temple's platform, additional findings hint at its enduring significance throughout the Middle Ages. Archaeologists have uncovered evidence of medieval use, including burials, hearths, and an ancient water drainage system. These remnants paint a vivid picture of the temple's continued importance throughout history.
As excavation work continues, experts anticipate that more revelations about Sarsina's past will come to light. Gennaro Sangiuliano, Italy's Minister of Culture, summed it up aptly when he said, "This finding is an important archaeological treasure that can offer valuable information about the history and evolution of a specific geographical area."
As Italy celebrates its European Heritage Days on September 23 and 24, 2023, the temple will be officially unveiled to the public, solidifying Sarsina's place as a captivating archaeological hub.