A total of 24 well-preserved Chinese bianzhong, also known as chime bells, have recently been discovered in the ruins of an ancient city near Zhengzhou, the capital city of Henan Province in Central China. The bianzhong dates back over 2,000 years to the Spring and Autumn Period (770 BCE-476 BCE). This significant archaeological find was located in a sacrificial pit near the remains of a palace.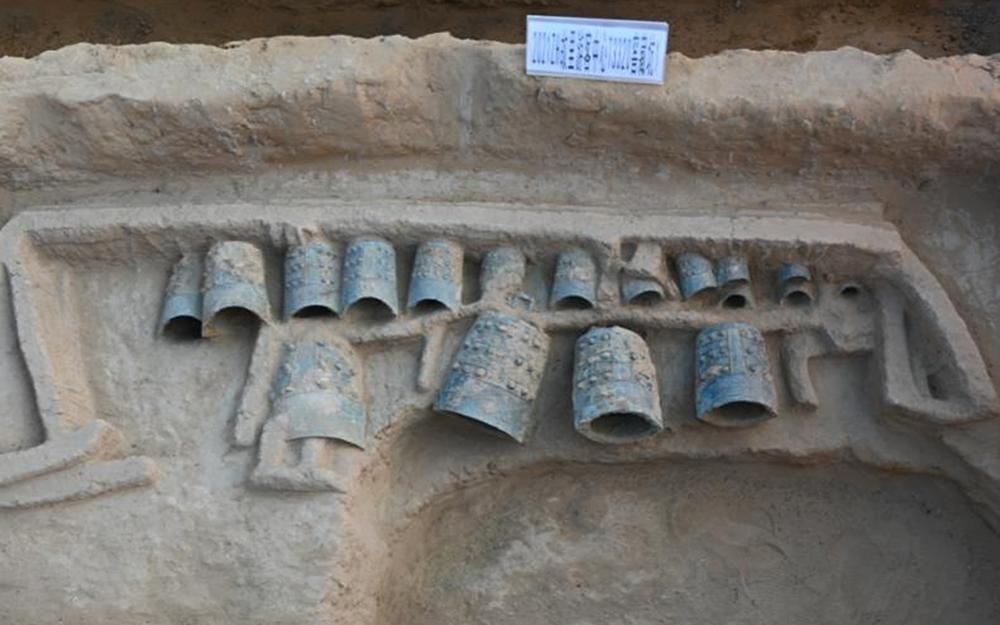 Bianzhong are ancient Chinese musical instruments consisting of a set of bronze bells that produce melodious sounds when struck with a mallet. What makes these chime bells unique is their lens-shaped section, distinctive "cutaway" profile on the bell mouth, and 36 studs or bosses symmetrically placed around the body, allowing them to produce two different musical tones depending on where they are struck. This characteristic has earned them the nickname "One bell, two sounds."
The discovery holds immense cultural and historical significance. "The bianzhong symbolize rank and power and represent a high achievement in both the art and culture of ancient China," stated Guan Ping, a historian based in Beijing. These chime bells played an integral role in the ritual system of the kingdom palace during the Spring and Autumn Period and offer valuable insights into the cultural development of the era.
Yu Jie, a staff member at the Henan Provincial Institute of Cultural Relics and Archaeology, provided details about the excavation. The bianzhong sacrificial pit measures 0.8 meters in depth, 2.6 meters in length from east to west, and 1.4 meters in width from north to south. Within this pit, archaeologists discovered three rows of bell frames, housing a total of 24 well-preserved chime bells. The wooden frame within the pit is still clearly visible and has been dated back to the middle and late Spring and Autumn Period.
The Zhou Dynasty (1046 BCE-256 BCE) is renowned for establishing rules for rites and music, and bianzhong played a significant role in ceremonies, galas, and performances during this period. Music held deep connections to rituals in ancient China, playing a vital role in maintaining social order.
While bianzhong have been discovered in various regions of China in recent decades, this particular find is notable due to the exceptional preservation of both the chime bells and their wooden frame. The site also yielded two tombs, shaped like vertical pits, containing complete bronze ritual vessels. These tombs are believed to have belonged to high-ranking individuals, marking the first time such tombs have been found in this ancient city.
The discovery of bianzhong in this ancient city echoes previous notable finds, such as the 1978 discovery of bianzhong inside the tomb of the aristocrat Yi of Zeng in Suizhou, Hubei Province. The set found in Yi's tomb contains a total of 3,755 characters and is adorned with gold.
The ancient city ruins, where this significant find occurred, span an area of 16 square kilometers and were designated as a National Archaeological Ruins Park in 2017. These ruins have provided valuable materials for research into areas such as burial systems and defense systems, further enriching our understanding of ancient Chinese history.