A team of scientists led by Professor Larry Barham from the University of Liverpool has unearthed what is now considered the world's oldest-known wooden structure.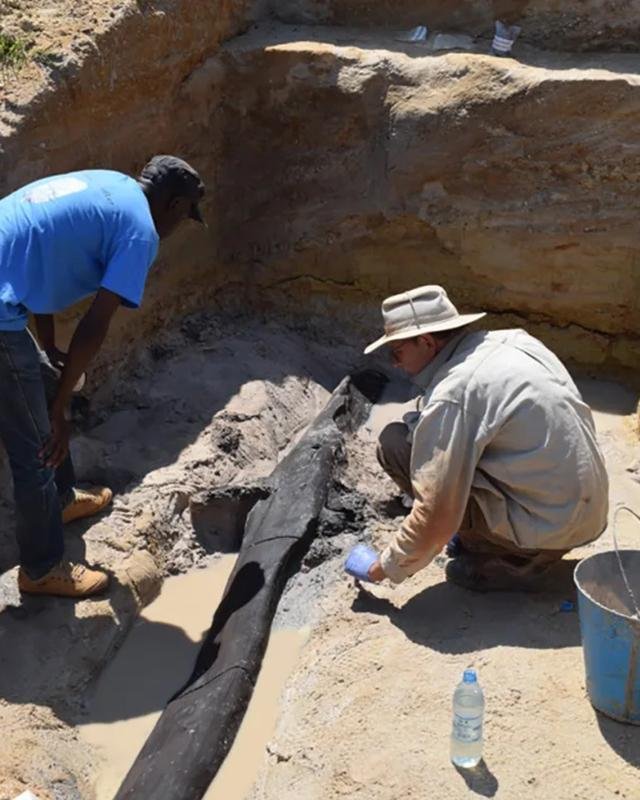 This remarkable find, located at Kalambo Falls in Zambia, is estimated to date back approximately 476,000 years, challenging previous assumptions about early human capabilities. This age predates the appearance of Homo sapiens in the evolutionary timeline by thousands of years.
The wooden structure, believed to have been part of a platform or walkway, consists of two interlocking logs with a deliberately crafted notch that allowed them to fit together at right angles. This unique construction is unlike anything found in the African or Eurasian Paleolithic.
Professor Barham and his team also recovered four wooden tools, including a wedge, a digging stick, a cut log, and a notched branch, dating back to 324,000 years ago. These discoveries challenge the existing notions of the limited technical capabilities of early hominins, indicating their ability to work with wood at a large scale.
The research team utilized luminescence dating to estimate the age of the wooden structure, as it was too old for radiocarbon dating.
The significance of this find extends further as it pushes back the age range of woodworking in Africa by thousands of years, predating the appearance of modern humans in the evolutionary timeline. While the specific ancient human species responsible for creating this wooden structure remains uncertain, it is highly unlikely to have been Homo sapiens.
Homo sapiens fossils date back approximately 300,000 years and have been found in other regions. The complexity of the Kalambo Falls structure suggests that the ancient hominins who built it had a level of cognitive sophistication that likely required the use of language.
Additionally, the site's unique environmental conditions, characterized by dense forest cover and a high water table, indicate the need for constructing raised platforms, walkways, or foundations for dwellings. This suggests a more settled existence than previously thought for Stone Age humans, who were often depicted as nomadic foragers.
The Kalambo Falls discovery challenges previous perceptions of early humans' technical cognition, highlighting their capacity to shape tree trunks into complex structures. The results suggest that early hominins might have had a sophisticated understanding of their surroundings and a profound impact on the environment.
More information:
Barham, L., Duller, G.A.T., Candy, I. et al. (2023). Evidence for the earliest structural use of wood at least 476,000 years ago. Nature 622, 107–111.
https://doi.org/10.1038/s41586-023-06557-9