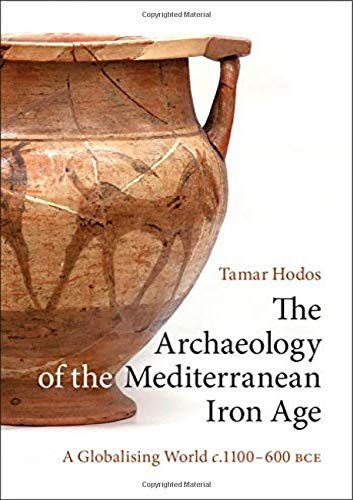 by Tamar Hodos
Publisher: ‎Cambridge University Press
Publication date: October 15, 2020
Language: ‎English
Paperback: ‎336 pages
ISBN-10: ‎0521148065
ISBN-13: ‎978-0521148061
Utilizing theories of globalization, this book delves into the intricate web of connections between diverse communities across the Mediterranean region.
The Iron Age period in the Mediterranean stands out as an exceptionally dynamic epoch. Characterized by unprecedented movements of individuals and groups, the first half of the first millennium BCE witnessed the emergence of practices that spanned the entire Mediterranean region. These encompassed the development of related writing systems, common urban features, shared artistic styles, and techniques, all intertwined with the evolution of extensive trade networks.
Collectively, these factors contributed to the formation of a highly engaged, interconnected, and interactive Mediterranean milieu. This era can be identified as the Mediterranean's inaugural foray into true globalization. Within the pages of this volume, both students and scholars are introduced to contemporary evidence and theories that revolve around the Mediterranean's evolution from the eleventh century to the conclusion of the seventh century BCE. These insights facilitate a holistic comprehension of the multicultural and socially intricate facets characterizing this exceptionally vibrant period.
About the Author
Tamar Hodos holds the position of Reader in Mediterranean Archaeology at the University of Bristol and is a world-renowned authority on Mediterranean Iron Age archaeology. She has authored notable works such as "Local Responses to Colonization in the Iron Age Mediterranean" (2006), co-edited "Material Culture and Social Identities in the Ancient World" (2010), and played a pivotal role in "The Routledge Handbook of Archaeology and Globalization" (2018).