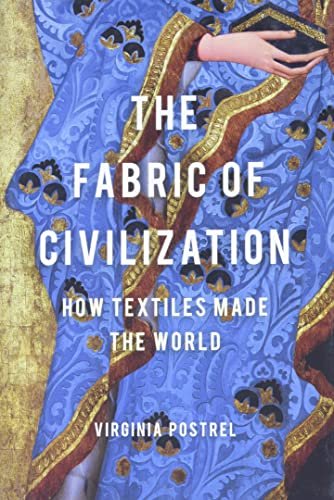 by Virginia Postrel
Publisher: ‎Basic Books
Publication date: November 10, 2020
Language: ‎English
Hardcover: ‎320 pages
ISBN-10: ‎1541617606
ISBN-13: ‎978-1541617605
Embark on a captivating and enlightening journey through the global history of textiles, a profound force that has woven the tapestry of our world.
The narrative of human civilization unfolds hand in hand with the evolution of textiles, a legacy as ancient as society itself. Since the inception of the first spun thread, the demand for textiles has been a driving influence in the realms of technology, commerce, politics, and culture.
In "The Fabric of Civilization," Virginia Postrel skillfully amalgamates groundbreaking insights drawn from the realms of archaeology, economics, and science to unveil an astonishing historical account.
The fabric trade serves as the intersection of diverse cultures in the ancient world, where Minoans exported wool dyed with precious purple hues to Egypt and Romans donned opulent Chinese silk. Textiles not only underwrote the Renaissance and the grandeur of the Mughal Empire but also gave rise to financial institutions, bookkeeping practices, iconic masterpieces such as Michelangelo's David, and architectural marvels like the Taj Mahal.
The textile industry became the catalyst for disseminating the alphabet and arithmetic, propelling advances in chemistry, and fostering the development of binary code.
Meticulously researched and masterfully narrated, "The Fabric of Civilization" unfolds the chronicle of the most influential commodity in the world.
About the Author
Virginia Postrel, an acclaimed journalist and independent scholar, contributes as a columnist to Bloomberg Opinion and has previously written for distinguished publications like the Atlantic, the Wall Street Journal, and the New York Times. She is the author of highly regarded works including "The Substance of Style" and "The Power of Glamour." Her research receives support from the Alfred P. Sloan Foundation, and she currently resides in Los Angeles, California.
Reviews
"We are taken on a journey as epic, and varying, as the Silk Road itself… [The Fabric of Civilization is] like a swatch of a Florentine Renaissance brocade: carefully woven, the technique precise, the colors a mix of shade and shine and an accurate representation of the whole cloth."―New York Times
"Expansive… The author is excellent at highlighting how textiles truly changed the world."―Wall Street Journal
"My pick as best nonfiction book of the year….[Virginia Postrel] offers a bold retelling of history through an emphasis on cloth — cloth as decoration, cloth as currency, cloth as ritual and much more. One of the most extraordinary volumes I have read in years."―Stephen Carter, Bloomberg Opinion
"Fascinating and wide-ranging… This is an engrossing and illuminating portrait of the essential role fabric has played in human history."―Publishers Weekly
"A fascinating, surprising and beautifully written history of technology, economics, and culture, told through the thread of textiles, humanity's most indispensable artefacts. I loved it."―Matt Ridley, author of How Innovation Works
"The story of technology is a story of human ingenuity, and nowhere is this more clear than in the story of textiles: the original technology, going beyond what we commonly think of as 'tech.' As with many technologies, we suffer an amnesia about them when we enjoy them in abundance, as Postrel observes; her book gives us back our memories about this technology that we use every day without even knowing it."―Marc Andreessen, co-founder, Netscape
"Cleanly written and completely accessible, this book opens up an entirely new world of textiles, explaining the most ancient archeological fabrics and the latest polymer blends that cool the body — not warm it as textiles have done for thousands of years — with equal verve."―Valerie Hansen, author of The Year 1000: When Explorers Connected the World–and Globalization Began
"Postrel's brilliant, learned, addictive book tells a story of human ingenuity…. Her deep story is of the liberty that permitted progress. Presently the descendants of slaves and serfs and textile workers got closets full of beauty, and fabric for the cold, a Great Enrichment since 1800 of three thousand percent."―Deirdre Nansen McCloskey, author of the Bourgeois Era trilogy
"Virginia Postrel captures the ingenuity with which people around the globe solved the problems of raising fiber, spinning thread, making cloth, and giving it beautiful colors. This book opens the reader's eyes not only to the textiles that daily surround us but also to the remarkable skills of their makers."―Jenny Balfour-Paul, author of Indigo
The Fabric of Civilization: How Textiles Made the World chronicles the laborious and cumulative innovations that allow cloth to play an essential role in our comfort, cultural identity, and our dependence on programmable functions. At times, the fabric of society appears threadbare but, based on the global nature of textiles, it is comforting to know that all cultures have a shared experience. Postrel reminds us that we are all woven together with colorful threads."―Susie Taylor, artist Amazon.com