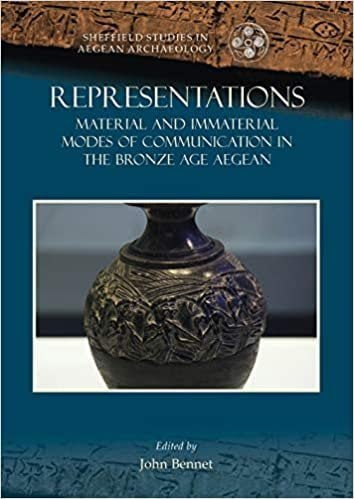 by John Bennet (Editor)
Publisher: ‎Oxbow Books
Publication date: June 29, 2021
Language: ‎English
Paperback: ‎352 pages
ISBN-10: ‎1789256410
ISBN-13: ‎978-1789256413
This book offers a collection of insights into communication methods during the Bronze Age Aegean, featuring contributions from two workshops organized by the Sheffield Centre for Aegean Archaeology.
The workshops, titled 'Technologies of Representation' and 'Writing and Non-Writing in the Bronze Age Aegean,' were created to capture the latest advancements in these closely linked research fields. Their aim was to bridge the gap between 'science-based' and 'humanities-based' approaches, as well as between the examination of written communication, particularly its content, and broader forms of communication.
The contributions are categorized thematically into three groups. The first group primarily explores non-written communication, delving into subjects such as the use of color in Late Bronze Age Pylos wall paintings, a reinterpretation of the 'Harvester Vase' from Ayia Triada, re-evaluations of grave stelae sequences at Mycenae, Aegean representations of warfare, and how ritual architecture is portrayed in the Knossos wall paintings.
Additionally, this section discusses the utilization of painted media to depict subjects originally present in other lost forms of media, like fabric.
The second group focuses mainly on written communication, addressing the definition of Aegean writing itself, the contexts surrounding literacy, how the Linear B script conveyed language, and a historical exploration of early attempts to decipher Linear B.
The third group combines Linear B texts and archaeological data to examine how people were represented distinctively through taste and smell. It also explores how various aspects of time were expressed both textually and materially. This section delves into the roles of images in Aegean scripts, complemented by a Peircian analysis of early Cretan writing. It also considers the complementary roles of (non-literate) sealing and (literate) writing practices, concluding with a further exploration of the color palette employed at Pylos.