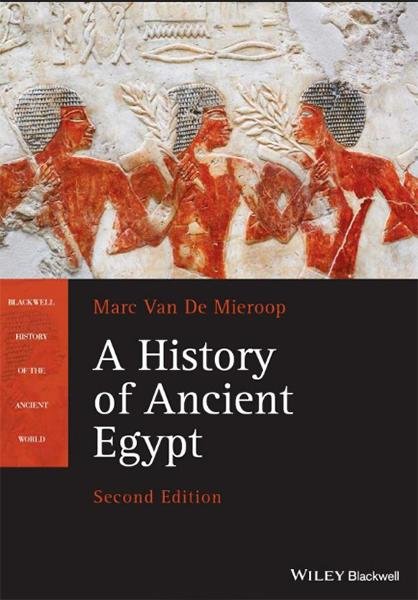 by Marc Van De Mieroop (Author)
Publisher: Wiley-Blackwell; 2nd edition
Publication date: February 4, 2021
Language: English
Print length: ‎416 pages
ISBN-10: ‎1119620872
ISBN-13: ‎978-1119620877
Explore the complete historical journey of the ancient Egyptian state, spanning from 3000 BCE to 400 CE, with this authoritative volume.
In its newly revised Second Edition, A History of Ancient Egypt offers an updated and comprehensive overview of Egypt's ancient history, beginning with its origins and extending to the Roman Empire's prohibition of hieroglyphics in the fourth century CE.
This book delves into the various facets of Egypt's history and the sources that document it, encompassing the social, economic, and culturally vibrant life of ancient Egypt.
Recently updated to incorporate the latest archaeological findings, this work strives to make cutting-edge scholarship accessible to a broad readership, including introductory undergraduate students. It skillfully traces the significant political and cultural milestones, contextualizing Egypt's history within its regional landscape and highlighting its interactions with western Asia and Africa.
Every epoch in Egypt's history is accorded equal attention, along with an exploration of the challenges faced by scholars in studying these periods. The book offers a solid foundation for all students interested in Egyptian culture, touching upon themes such as:
A comprehensive introduction to the establishment of the Egyptian state during the years 3400 BCE to 2686 BCE.
An examination of the conclusion of the Old Kingdom and the onset of the First Intermediate period, spanning from 2345 BCE to 2055 BCE.
An analysis of the Second Intermediate Period and the Hyksos' influence from 1700 BCE to 1550 BCE.
A discourse on the Greek and Roman eras in Egypt from 332 BE to CE 395.
Tailored for students taking introductory courses in ancient Egyptian history and as supplementary material for those enrolled in courses related to Egyptian art, archaeology, and culture, A History of Ancient Egypt also finds a well-deserved place on the bookshelves of individuals studying surveys of the ancient world or seeking a companion volume to A History of the Ancient Near East.