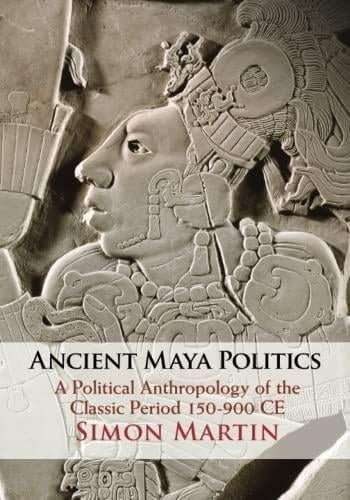 by Simon Martin (Author)
Publisher: Cambridge University Press
Publication date: June 9, 2022
Language: ‎English
Paperback:‎ 544 pages
ISBN-10: 1108705235
ISBN-13: ‎978-1108705233
Unlocking the enigmatic political system of the Classic Maya, "Ancient Maya Politics" provides fresh insights through the reexamination of ancient texts.
The Classic Maya has posed a persistent challenge for scholars, particularly regarding their political organization, a topic fraught with enduring debates and conflicting interpretations. Simon Martin contends that recent deciphering of inscriptions and newfound archaeological revelations can bring resolution to this longstanding dispute.
In his comprehensive reanalysis, Martin addresses a fundamental question: how did numerous small kingdoms persist independently for over 600 years without succumbing to absorption by larger states or empires?
Through the utilization of previously untapped comparative and theoretical approaches, Martin proposes mechanisms that maintained a 'dynamic equilibrium' within a system best conceived not as an array of distinct polities but as an interconnected whole.
The rejuvenation of Maya studies as text-supported historical archaeology marks a new era, empowering the field to construct political anthropology as robust as those developed for other ancient civilizations.
Author
Simon Martin, the author, currently serves as an Associate Curator and Keeper at the Penn Museum, holding the position of Adjunct Associate Professor of Anthropology at the University of Pennsylvania. Renowned for co-authoring "Chronicle of the Maya Kings and Queens" (2008) and "Courtly Art of the Ancient Maya" (2004), he presently occupies the role of the 2019–2020 Kislak Chair for the Study of the History and Cultures of the Early Americas at the Library of Congress in Washington DC.