Archaeologists have discovered evidence of an ancient festival site near Carlisle, shedding new light on the origins of British identity.
The term "Britain" has long been associated with the Celtic term "Pritani," which translates to "the painted ones," implying a historical inclination toward body painting. However, prior to this discovery, there had been limited archaeological substantiation of this cultural practice.
Historical references, such as Pytheas' mention of "Prettanike" in the 4th century BC, which later evolved into the Roman "Britannia," and Julius Caesar's accounts of Britons adorning themselves with paint, further corroborate this hypothesis. Even in the 6th century AD, Jordanes, a pro-Roman historian, described northern Britain's inhabitants as "painting their bodies with iron-red pigments."
The recent excavation, conducted at a 6,500-year-old probable ceremonial site in north-west England, has yielded the most extensive assemblage of red ochre fragments ever discovered in Britain, totaling 610 pieces.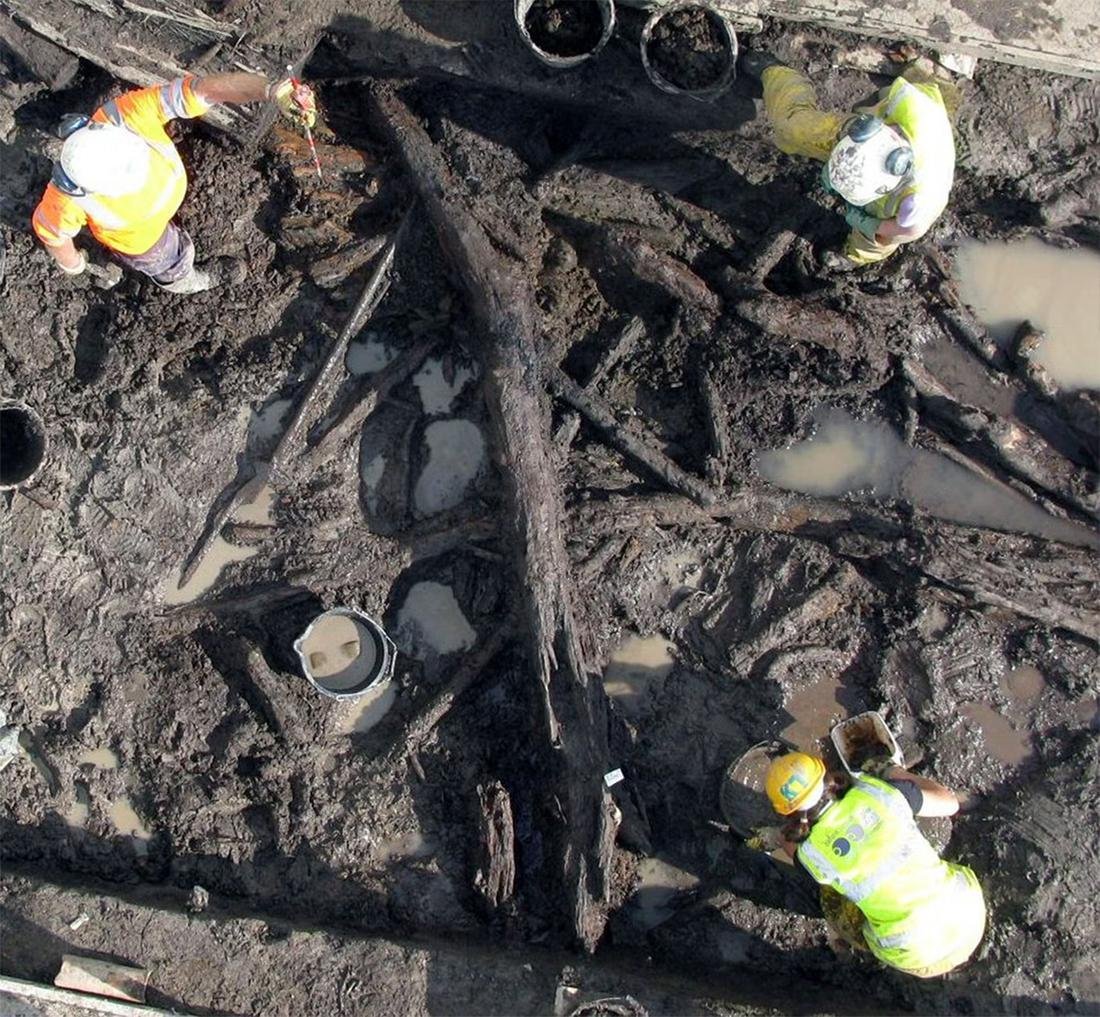 This remarkable find, coupled with linguistic and historical records, strongly suggests that body painting was a significant and enduring British tradition, contributing to the eventual christening of the region as "Britain," signifying "the land of the painted people."
Although this discovery stands out for its unprecedented scale, evidence from other archaeological sites across the UK indicates that prehistoric Britons made use of red ochre during various epochs, including the Neolithic, Bronze Age, and Iron Age.
The excavation also unearthed grinding stones, which were likely employed to pulverize red ochre lumps into fine powder, presumably for pigment production.
The site, located on a small island that was once 1.2 acres in size within the River Eden, is believed to have served as a focal point for substantial communal gatherings of both ritualistic and economic importance. Archaeological findings indicate its significance as a prominent fishing base, particularly during the peak spring salmon run, likely occurring in mid-April.
Archaeological evidence indicates its use as a prominent fishing base during the peak spring salmon run, possibly in mid-April. Researchers suspect that Stone Age communities used specialized triple-pronged fishing spears, referred to as tridents or leisters, along with bows and arrows.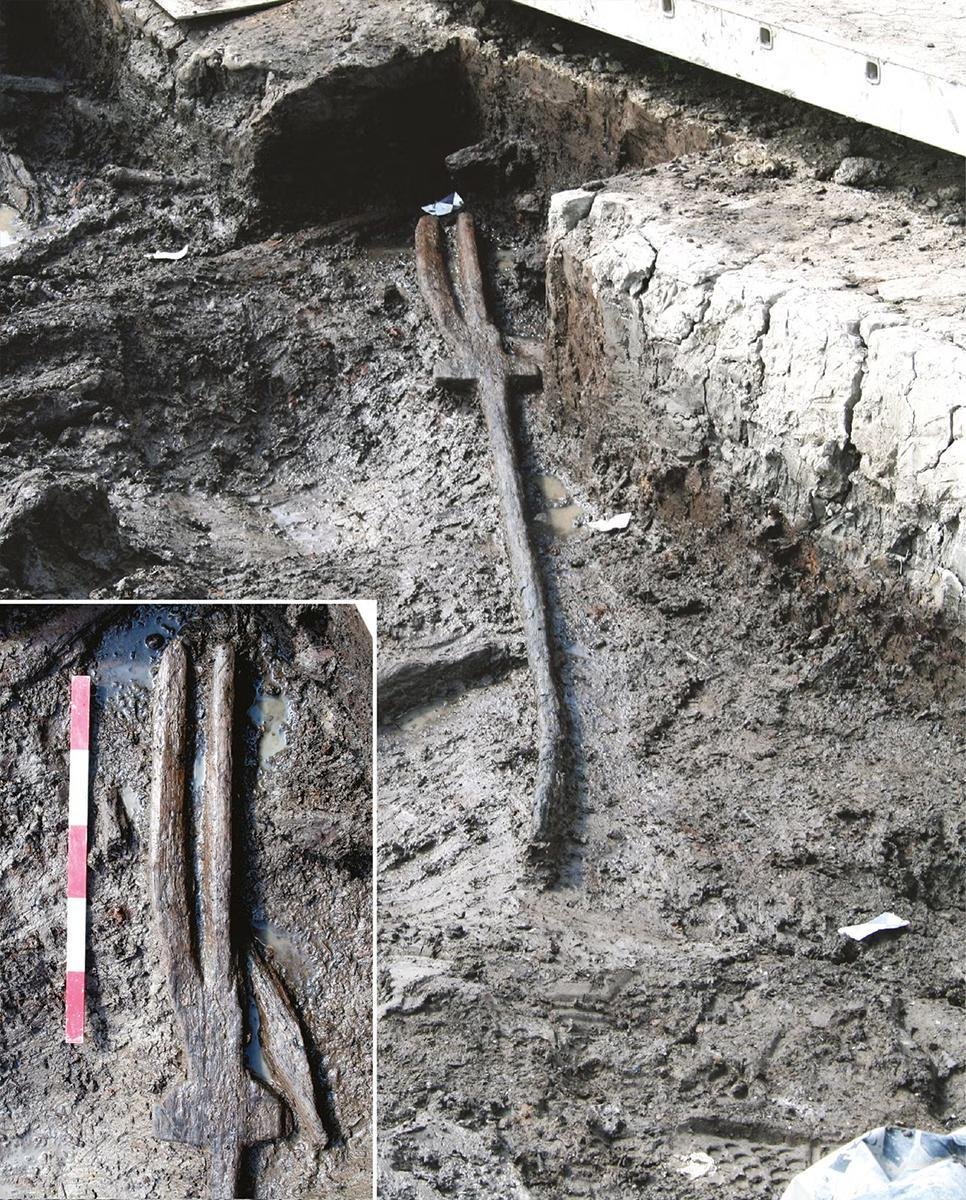 The site also yielded proof of Stone Age arrow crafting, and two Neolithic wooden tridents were found in the surrounding wetlands, likely offered to local deities or ancestral spirits.
While the exact number of participants in these salmon-related activities and associated ceremonies remains uncertain, evidence suggests these annual gatherings attracted over a hundred individuals, possibly from up to six distinct small hunter-gatherer groups and extended families.
They somehow acquired volcanic glass (such as pitchstone and obsidian) from distant locations, including the Isle of Arran, the Yorkshire coast, the Cumbrian Mountains, the North Pennines, the Solway Firth coast, and the Southern Uplands of Scotland. This excavation constitutes the largest discovery of volcanic glass in England.
In addition to these findings, archaeologists from Oxford Archaeology stumbled upon a rare example of Mesolithic art — a stone inscribed with three parallel lines.
The vanished island, once located in the lower reaches of the River Eden, featured numerous narrow channels that forced migrating salmon from the Irish Sea to swim through, facilitating human capture.
Stone Age fishermen are believed to have temporarily obstructed these channels with nets or wicker barriers to concentrate salmon for easier harvest. Some salmon measured over a meter long and weighed up to 7 kg, making them a valuable nutritional resource.
Fraser Brown, the lead archaeologist from Oxford Archaeology, emphasized the significance of the Carlisle site in demonstrating the social complexity of Mesolithic hunter-gatherer society and the extensive interactions between disparate communities across Britain before the advent of agriculture. This discovery marks the first comprehensive evidence of the interconnectedness of Stone Age British hunter-gatherer bands.
Sources: The Independent , Nation World News