Archaeologists from the National Institute of Anthropology and History (INAH) have discovered a painted vault lid at the ancient Maya city of Ek' Balam, located in the municipality of Temozón, Yucatán, Mexico. The recent excavation in the east-elevated plaza of the Acropolis unearthed this vault lid.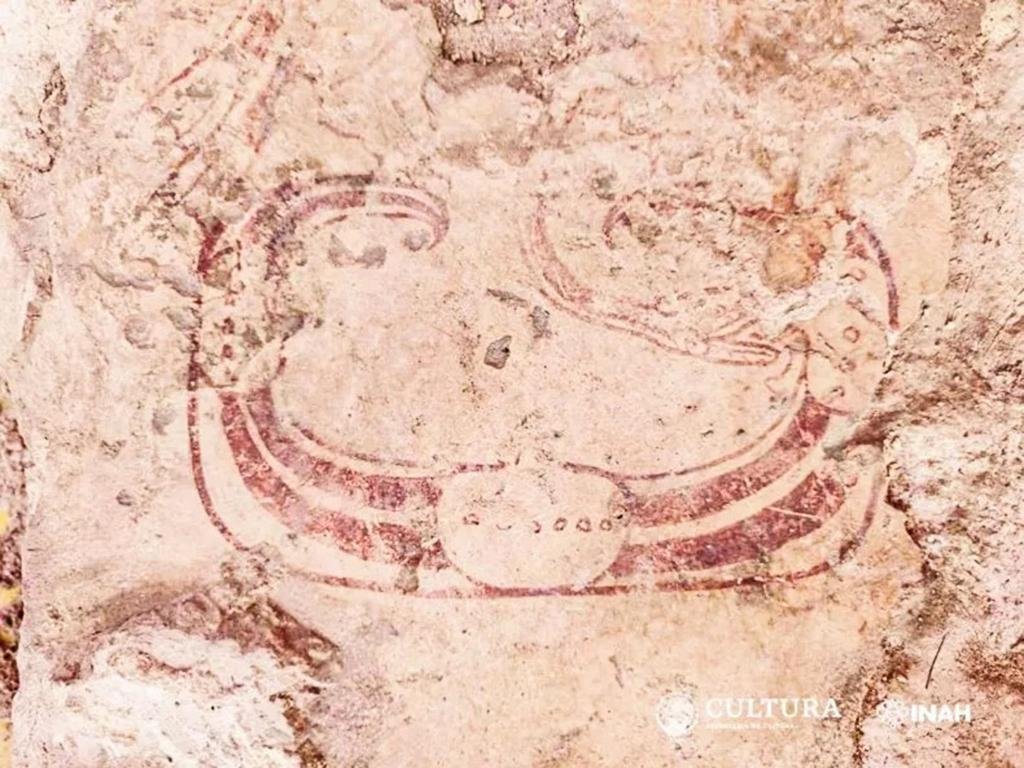 Ek' Balam, a city that thrived during the Late Classic period of Maya culture (A.D. 600 to 900), is known for its pyramidal platform temples, plazas, palaces, ballcourts, and a massive central Acropolis. Archaeologists believe that Ek' Balam was suddenly abandoned during a period of turmoil and conflict.
The lid features a vivid red "U"-shaped symbol, which researchers interpret as a representation of a cave, possibly alluding to the Maya underworld. This interpretation adds a new layer of understanding to Maya cosmology.
What sets this vault lid apart is the prominent depiction of a serpent's head and body. This serpent is believed to be associated with K'awiil, a Maya god associated with lightning, serpents, fertility, and maize. K'awiil is typically depicted with a zoomorphic head, characterized by large eyes, a long, upturned snout, and an attenuated serpent foot.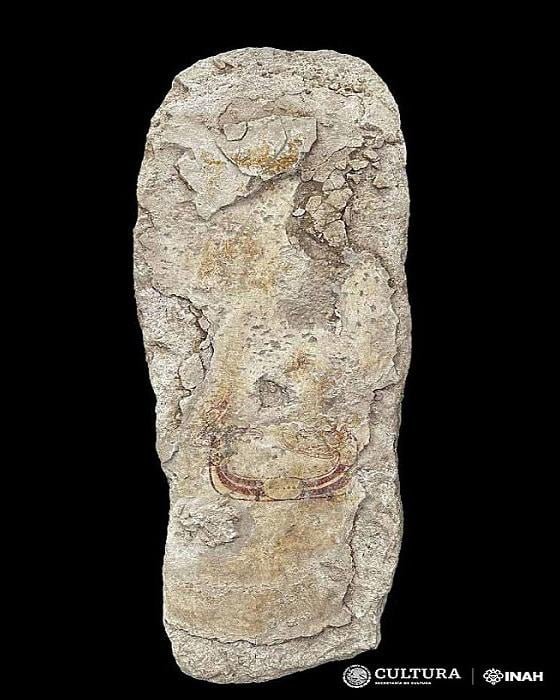 The discovery was announced by Leticia Vargas de la Peña and Víctor Castillo Borges, Directors of the Ek' Balam Archaeological Project. They emphasized the significance of this find in shedding light on the elite enclosures of the east elevated plaza of the Acropolis and helping to establish construction dates for these structures.
This painted vault lid is the latest in a series of similar discoveries in the Ek' Balam archaeological zone. Earlier findings of painted vault lids have provided valuable insights into the history of Ek' Balam, revealing the names of city rulers and construction dates for rooms within the royal palace and Acropolis.
The unveiling of this discovery occurred during a press conference focused on the progress of Section 4 of the Tren Maya project. Tren Maya is a massive intercity railway project, scheduled to begin operating in December, that traverses the Yucatán Peninsula, the heartland of the ancient Maya civilization.
Critics of the Tren Maya project have raised concerns about its potential impact on archaeological sites, including the risk of damage to ancient Maya artifacts and structures. Nonetheless, the project has led to a wealth of discoveries, further enriching our understanding of Maya history.
Leticia Vargas de la Peña and Víctor Castillo Borges, who serve as the Directors of the Ek' Balam Archaeological Project, have stated, "This discovery provides new information about the builders of the elite enclosures of the east elevated plaza of the Acropolis, as well as evidence to date when they were erected."